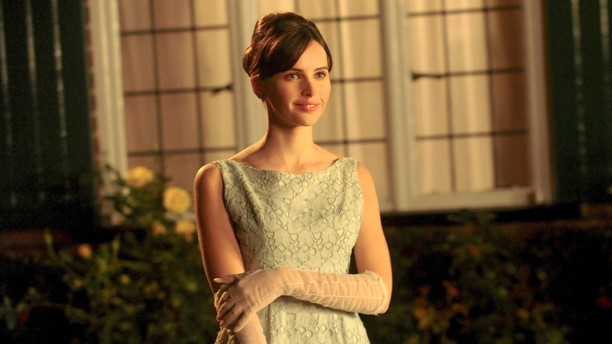 Felicity Jones once again shows she can really act in The Theory of Everything, in which stars as the wife of the British physicist Stephen Hawking opposite Eddie Redmayne.
The film, which is out now, has become a possible Oscar contender, especially because of its performances, and it's also won praise for Benoit Delhomme's cinematography.
Strong on period details, the film begins at Cambridge University in the 1960s when a young Stephen Hawking yet to be fully afflicted by motor neuron disease meets and falls for Jane Wilde, played by Jones, who he eventually marries.
There's a very strong British flavor to this film. Felicity Jones says, "I think it's very much Britain in a certain time. She is quite sort of prim and proper and buttoned-up, but that was sort of what was expected of you as a woman, and to see how she tries to find her own identity within those time constraints was fascinating."
Top Oscar prognosticator Scott Feinberg, at the Hollywood Reporter, has Felicity Jones pegged as among the frontrunners in the Best Actress Oscars race. It's a long time until the prizes are handed out but this British actress has done some great work and it would be nice to see her get properly rewarded.
See more:
WATCH: How Did Eddie Redmayne Prepare to Play Stephen Hawking?
WATCH: Felicity Jones Keeps Mum When It Comes to 'The Amazing Spider-Man 2′
Read More
Filed Under: