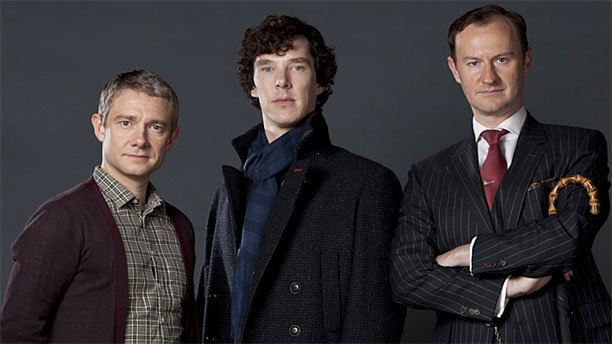 Radio Times has a beautifully poised little interviewette with Mark Gatiss on the subject of Sherlock, when it will be back on TV screens and what will happen when it is.
And rest assured, once you've read what he has to say, you'll be no closer to knowing exactly what is going on, but it'll feel like significant information has been exchanged. That's about the ideal amount of pre-release gossip, really.
So first of all, on the topic of the Sherlock Christmas special, the stand-alone story that is due at the end of next year. Mark is quick to point out that the whole affair will be shot early in 2015, and that they're already in pre-production. As to whether it will actually be a Christmassy Christmas special or even on TV at Christmas, well that's not his department: "It's a very special special, and we're all tremendously excited about it.
"It will be finished, of course, by the end of spring. When they show it is entirely down to the schedulers. It would fit as a Christmas special but there's no guarantee of that – they used to show the Mike Yarwood [Christmas] Show in the summertime."
Note: Mike Yarwood was a British TV impressionist (as in, he did impressions, not paintings) who was very popular in the 1970s.
And what if fans wish to go and see Sherlock in action, during the filming process? What sort of a thing can we expect? WHAT IS GOING ON?
"It's pretty close to shooting now. It won't be long before people see enough to get their teeth into…"
And no, that's probably not a clue as to the nature of the crime being investigated.
See more:
Benedict Cumberbatch Defends Sherlock Holmes' Sexual Prowess
Biggest Sherlock Holmes Exhibition in Over 60 Years Opens in London
Benedict: 'Sherlock Has No Time For Your Fawning'
'Sherlock's Mark Gatiss Paints Portrait of 'Doctor Who's David Tennant
Read More
Filed Under: