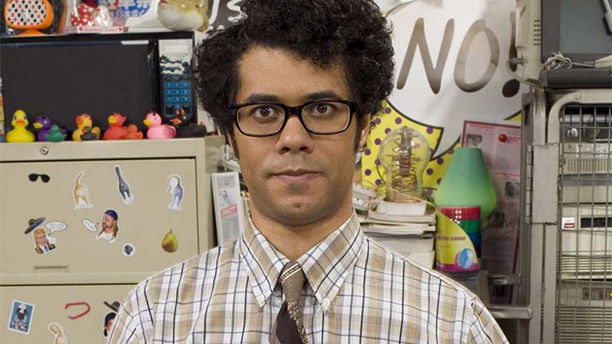 British actor Richard Ayoade may be preaching to the Anglophile choir when reflecting on his decision to take part in the 2006 U.S. remake of The It Crowd.
Ayoade revisited his role as an information technology "geek," starring opposite Community's Joel McHale in the NBC adaptation of the hugely popular U.K. show originally starring Ayoade, Chis O'Dowd and Katherine Parkinson. The U.K. series came out in 2006, and the pilot was filmed shortly after in 2007.
Ayoade swings by The Graham Norton Show, airing Saturday, November 15, spilling the beans, saying, "I was the only one dumb enough to do it. It was deeply weird."
His candor is surprisingly refreshing.
He goes on to say, "It was a bit like a play where everyone else had left. It was very odd."
A clever YouTube user posted this video, which shows two identical scenes from the U.K. series and the U.S. pilot. The U.S. scene is a little delayed, allowing time to watch the original:
It's interesting to compare the similarities and differences of the scenes, but it might be a little difficult to catch all of the dialogue, so here's a look at the pilot on its own:
While the first go at a U.S. adaptation never made it to air, it turns out NBC is making a third attempt. Ayoade talks about the upcoming remake, saying, "I understand they are trying again and now I'm out there's a chance it will succeed. It was a strange experience."
You can watch the entire exchange on The Graham Norton Show (November 15). He is joined on the couch by Dame Shirley Bassey, David Walliams, Catherine Tate, and music from Annie Lennox.
Ayoade has been keeping busy starring in Noel Fielding's Luxury Comedy, a zany sketch show-turned-sitcom, with two seasons airing on Channel 4, from 2012 through 2014.
What do you think of Richard Ayoade's revelation?
See More:
'The IT Crowd': The Greatest Hits of Maurice Moss
'The It Crowd' Finale Special Confirmed for September
'IT Crowd' Star Richard Ayoade Channels Dostoyevsky
Read More
Filed Under: