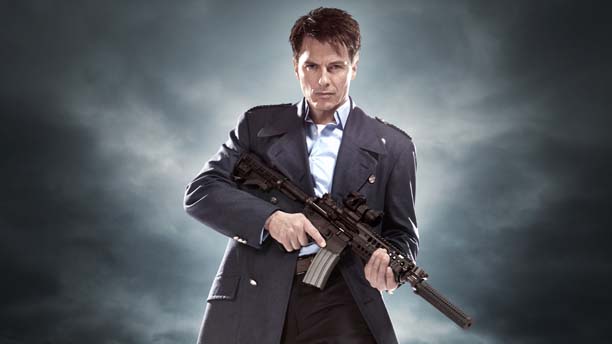 For the purposes of brevity, let's assume everyone is fairly familiar with the current career whereabouts of Christopher Eccleston (The Leftovers), Billie Piper (Penny Dreadful), David Tennant (Broadchurch), Arthur Darvill (also Broadchurch), Freema Agyeman (the upcoming Netflix series Sense8), Matt Smith (Terminator Genisys), Alex Kingston (Chasing Shadows), Karen Gillan (Guardians of the Galaxy and the late Selfie) and Catherine Tate (Nativity 3: Dude Where's My Donkey). If you aren't, see this post from earlier this year.
We're on the hunt for some of the most notable actors in recent Whovian history, the people who maybe only got to travel in the TARDIS once or twice, or helped the Doctor (or his enemies) in some small capacity and then span off into the ether once more.
Let's start with the grand fromage himself:
John Barrowman (Captain Jack Harkness)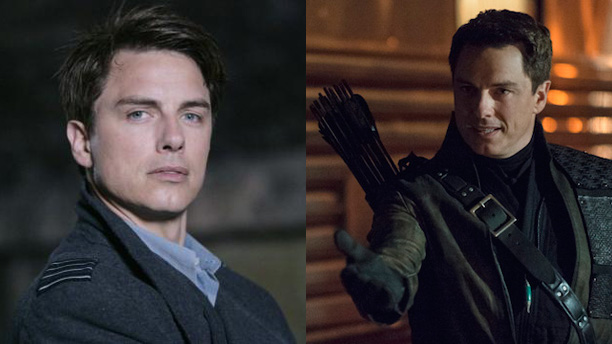 Ever the busy bee, John has been dividing his time between TV and film work, writing, presenting and recording music. In the last two years he has appeared in: Hustle, Zero Dark Thirty, Scandal and maintained a regular role in Arrow. He has also presented Small Animal Hospital, Superstar Dogs: Countdown to Crufts, Pressure Pad, John Barrowman's Pet Hospital and the astonishingly titled Sing Your Face Off. He also appeared in the pantomime Dick McWhittington, released an album called You Raise Me Up and co-wrote the novel Hollow Earth with his sister Carole. This is after two volumes of his autobiography and an MBE from the Queen. He's so busy he makes Benedict Cumberbatch look as lazy as forgotten blancmange.
Camille Coduri (Jackie Tyler)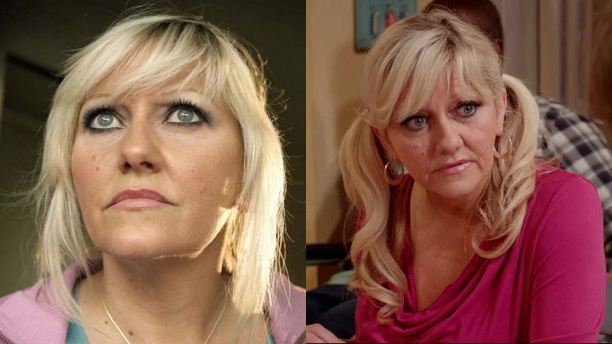 Since finishing her battles with Cybermen and Daleks as Rose Tyler's mother, Camille has most notably appeared in the BAFTA-winning sitcom Him & Her, starring Russell Tovey (remember Alonzo from "Voyage of the Damned"?) and Sarah Solemani, as well as taking character parts in episodes of New Tricks, Ashes to Ashes and Midsomer Murders. This year, Camille has been appearing in the British sitcom Edge of Heaven, Secrets and Words, a six-part drama series telling individual stories related to adult literacy.
Noel Clarke (Mickey Smith)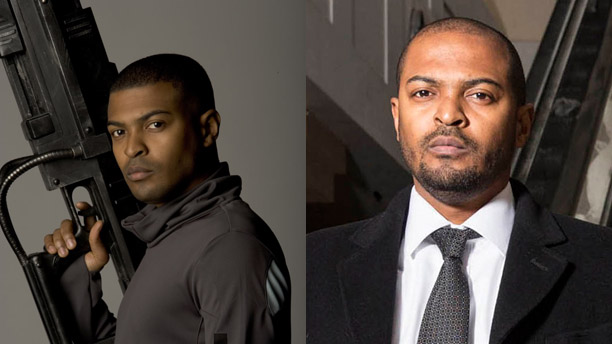 Another preposterously busy bee, whether it's acting, writing or directing, Noel has been involved in a huge variety of projects over the last few years. There are the high profile gigs, like Star Trek Into Darkness, Saving Santa, and the TV police drama Chasing Shadows (in which he stars with fellow Who alums Alex Kingston and Reece Shearsmith), and his own projects like 4,3,2,1, Fast Girls and The Anomaly. He also tweeted this from the set of Scottish Mussel, a couple of days ago:
On @ScottishMussel with Camille Coduri. Fun times. #DrWho pic.twitter.com/WuBMOv4hLN

— Noel Clarke (@NoelClarke) November 11, 2014
Gugu Mbatha-Raw (Tish Jones)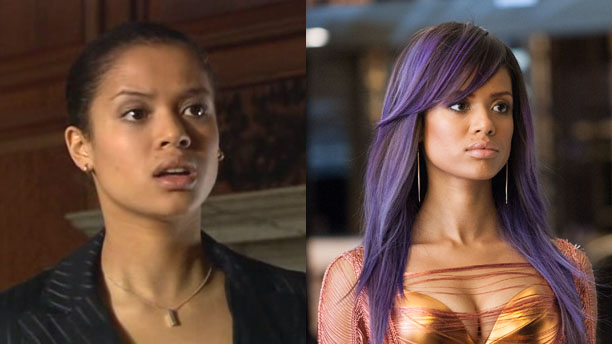 Far less famous these days for her role in Doctor Who than her more recent projects, Gugu played Martha Jones's sister in 2007, after wowing critics with her Juliet in the 2005 production of Romeo and Juliet at the Royal Exchange Theatre, Manchester. After her brush with the Master, Gugu went on to star in the J.J. Abrams TV show Undercovers, and appeared in the Tom Hanks movie Larry Crowne. But it was her performance as Dido Elizabeth Belle in Belle that really caught the world's attention. She was nominated in two categories in the BIFA awards, and again in the 2014 Gotham Award for her work in this year's Beyond the Lights. Expect to see her in Concussion, playing alongside Will Smith in the story of Dr. Bennet Omalu, the forensic neuropathologist who first discovered a link between players in the NFL and brain damage.
Frances Barber (Madame Kovarian)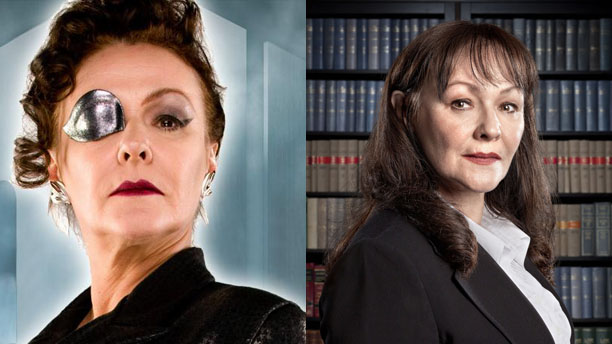 As one of Britain's most sought after stage and screen actresses, Frances wasn't exactly short of work before she took on the role of Madame Kovarian, associate of the Silence, and she hasn't been since she took off the eyepatch for the final time. There's been a TV adaptation of Great Expectations, a startling cameo in the comedy show Friday Night Dinner, a recurring part as a seductive barrister in Silk, and a few talking head moments in the 2014 mock-rock-documentary The Life of Rock with Brian Pern. She also spent a good deal of 2012/2013 playing the title role in the Donmar Warehouse's production of Julius Ceasar.
Jacqueline King (Sylvia Noble)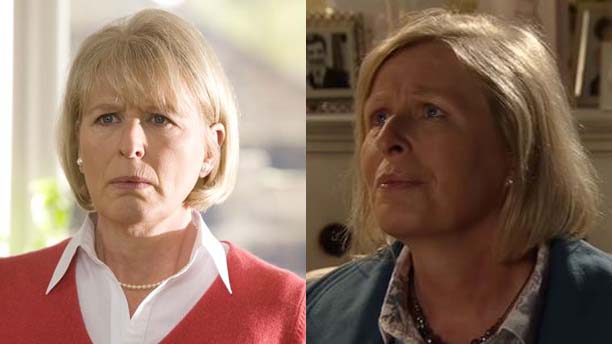 A graduate of the Bristol Old Vic, Jacqueline had worked on several Alan Ayckbourn plays (including the Damsels in Distress trilogy) before taking on the role of Donna Nobles mum, and appears as a character actress across a huge variety of recurring TV dramas, Hetty Wainthropp Investigates, Casualty, Life Begins, Missing, Holby City, Silk and Lawless and most recently a recurring part in Doctors. She also had a couple of years in Coronation Street (2011-2012) and played the diplomat April Glaspie in 2007's House of Saddam.
Jessica Hynes (Joan Redfern)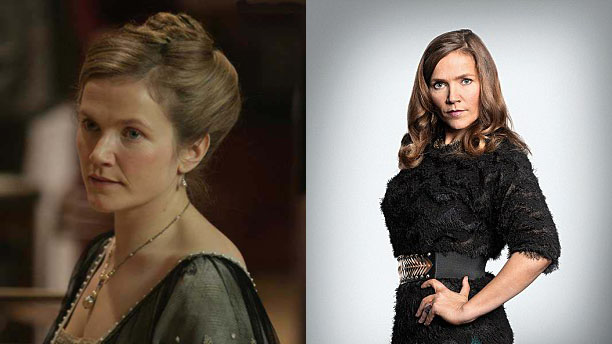 Another star whose work shines just as brightly outside of the Whoniverse, Jessica has appeared in several British movies, including the wonderful Son of Rambow, and Magicians (alongside David Mitchell and Robert Webb, who gave their voices to the robots in "Dinosaurs on a Spaceship"). She was the voice of Mafalda Hopkirk in Harry Potter and the Order of the Phoenix, played on Broadway when the Old Vic production of Alan Ayckbourn's The Norman Conquests transferred to New York, and was duly nominated for a Tony award. But it's her astonishing turn as the PR guru Siobhan Sharpe in the London Olympics comedy Twenty Twelve that has been her most glorious perfomance of recent years. So good, in fact, that she brought Siobhan back for the BBC-inspired sequel W1A.
Chipo Chung (Chantho)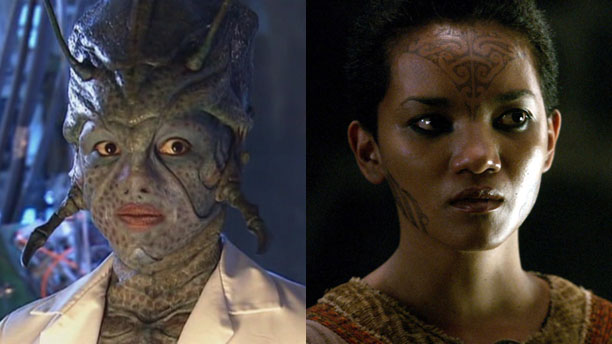 Chipo's life story will make for an astonishing autobiography. Born in Dar es Salaam, Tanzania to a refugee family, she spent two years living in camps in Mozambique, before moving to Harare and developing her love for theater. She studied at Yale and then came to London for a place at RADA, and immediately set about working at the Royal Court Theatre, including a stint playing Condoleezza Rice in Fallulah. She has managed the Wholock double, appearing twice in Doctor Who (as Professor Yana's assistant Chantho in "Journeys End" and Donna Noble's fortune teller in "Turn Left") and playing a reporter in the Sherlock story "The Hounds of Baskerville." She was also in the 2008 drama The Last Enemy, starring Benedict Cumberbatch and Robert Carlyle.
Bruno Langley (Adam Mitchell)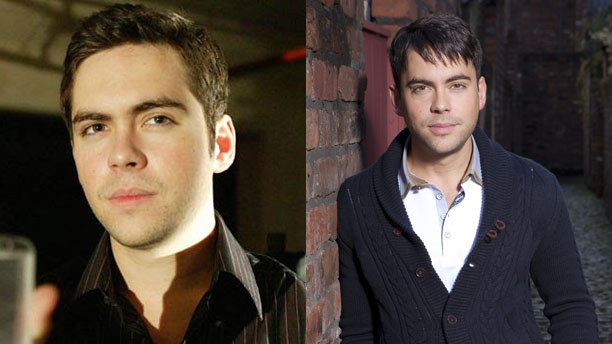 As well as appearing in Doctor Who, Bruno is probably best known to the British public as Todd Grimshaw, the first openly gay character in the soap Coronation Street, a part he has played on and off since 2001. Adam also appeared alongside Mark Gatiss, Reece Shearsmith and Steve Pemberton (all Who alums) in The League of Gentlemen's Apocalypse. And he was in Flashdance the Musical, and the 2010/2011 touring production of Calendar Girls, and the 2012 touring production of The Mousetrap. He also has his own jazz and blues band, playing piano and singing in Bruno Langley and the Wonderland Band.
Shaun Dingwell (Pete Tyler)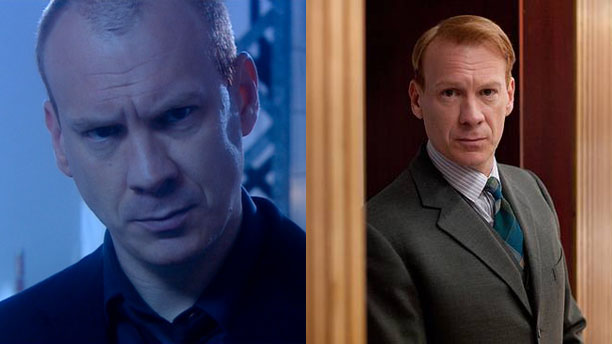 Shaun's TV CV takes in BAFTA winning drama (Charles II: The Power and The Passion, The Mark of Cain); police procedurals like The Long Firm, Above Suspicion and Touching Evil; and even the odd period drama, such as In A Land of Plenty, or Crime and Punishment. He was in the TV movie Learners with David Tennant, and the post-apocalyptic drama Survivors. He appears alongside David Morrissey in the new crime drama The Driver. He also appeared in the video for the Faith No More cover of the Bee Gees song "I Started a Joke."

Faith No More – I Started a Joke by lanegan
See more:
Harry Potter's Classmates: Where Are They Now?
The Cast of 'Four Weddings and a Funeral': Where Are They Now?
'Torchwood' Original Cast: Where Are They Now?
'Skins': Where Are They Now?
Read More
Filed Under: