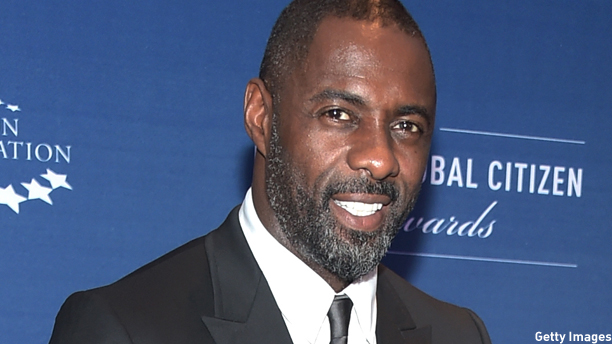 Idris Elba is clearly a man who takes his work seriously, but not so much the production hoo-hah around it. Always rushing from one project to the next—sometimes an actor, sometimes a DJ, sometimes a musician—catch him at the right moment and little secrets sometime tumble from his mouth.
Which makes this interview in the Telegraph a particular delight. Not only does he reveal some of the top secret projects he may be working on (possibly including Guy Ritchie's King Arthur movie) and that he had a bruising encounter immediately after finishing Mandela: Long Walk To Freedom, but he manages to spill the beans about his own AND Tom Hiddleston's involvement in Avengers: Age of Ultron, as part of an anecdote about leaving behind a DJ slot in order to resume his role as Heimdall, Gatekeeper of Asgard.
He said: "I'm in Avengers. And I'm doing a scene with Chris Hemsworth and Tom Hiddleston, and they're like, [whispers] – 'Aren't you [meant to be] in Ibiza?'"
So that's that. He's in the movie (assuming the scene makes the cut) and so are Thor and Loki.
As for the bruising encounter, well that's another Thor point:
"It was really weird," he said. "I'd just done eight months in South Africa. I came to England and the day I came back I had to do reshoots on Thor 2.
"And in the actual scene my hair was different. I was like, 'This is torture, man. I don't want to do this.' My agent said: 'You have to, it's part of the deal.'"
"I'm actually falling down from a spaceship, so they had to put me in harness in this green-screen studio. And in between takes I was stuck there, fake hair stuck on to my head with glue… while they reset. And I'm thinking: '24 hours ago, I was Mandela.' When I walked into the set the extras called me Madiba. I was literally walking in this man's boots.
"Then there I was, in this stupid harness, with this wig and this sword and these contact lenses. It ripped my heart out."
Which is possibly what some of the Marvel team will actually do when they find out you've been blabbing.
See more:
Richard Madden Set to Join Idris Elba for 'Bastille Day'
Idris Elba Teases Possible TV Return for 'Luther'
Idris and Benedict: Khan vs. Khan
8 Idris Elba Talents You May Not Know
Read More
Filed Under: