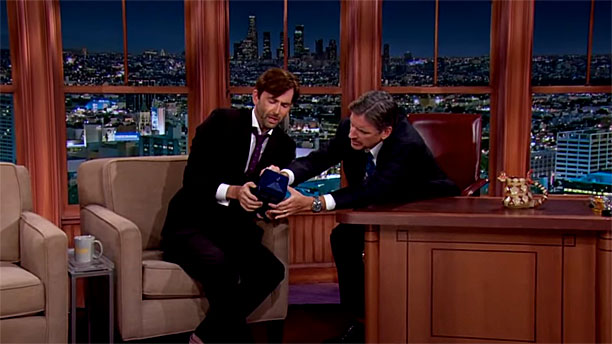 Having been spoiled with a brand new Doctor Who episode every week for the past couple of months, this week the residents of the Whoniverse have had to go back to making their own entertainment and finding Time Lord fun wherever they can.
Thank goodness, then, for David Tennant, who stopped by The Late Late Show With Craig Ferguson to discuss his work on Broadchurch and Gracepoint, before settling in to examine his little toy TARDIS (which is not, sadly, a real one that has been attacked by the Boneless from "Flatline"):
https://www.youtube.com/watch?v=5Bb8ciekgxI
It turned into something of a Scottish-up. Imagine if they could've got Peter Capaldi on there too. Even just his hand coming out of that tiny TARDIS:
https://www.youtube.com/watch?v=1yt5Fq66x6M
Speaking of chat shows, look who's coming to The Late Show with David Letterman this week:
THIS JUST IN: New #LateLateShow host James Corden (@JKCorden) joins Dave on Friday night! http://t.co/7ue9K2EetY pic.twitter.com/F8QiAMgW28

— Letterman (@Letterman) November 17, 2014
Here's what else has been going on in space and time recently:
• There was the official first look at the Doctor and Santa together from the 2014 Doctor Who Christmas Special in this exclusive preview of the Christmas special, shown on BBC Children in Need's Appeal Night:
• And you can immediately test yourself on how well you can remember it, over at Radio Times.
• Peter Capaldi revealed he actually turned down the chance to audition for the role of the Eighth Doctor in the 1996 Doctor Who TV movie. He said: "I just didn't want to have the disappointment, and go through all the palaver of jumping through hoops for something that I would never get. I knew it was an American pilot thing, and I knew they would go for somebody who was well known, which Paul (McGann) was.
"I loved the show so much that I didn't want to have anything to do with it unless it was, unless it was gonna be me!"
• But when he did get the part, he found the only way to get himself ready was to start a scrapbook: "What do I do? How do you prepare for that? I've no idea because the last time I played Doctor Who was when I was nine in the playground.
"So I thought I'd better do something so I just started this book where I collected images and quotes and things – I'd look at the world and see if there were people who I thought were vaguely or very particularly Doctor Who-ish. And put quotes in the book, put pictures in there."
Sort of like an analog Who's Day, basically.
• He also gave the sweetest answer ever to the question of whether he has attained the status of a silver fox: "I genuinely can't believe it. The only person that I want to love me is my wife and that's the only person that I love. But if people enjoy my profile in the privacy of their own home, well then…"
• We gave you a roundup of what some of the modern stars of Doctor Who are up to now, including this on-set tweet from Noel Clarke:
On @ScottishMussel with Camille Coduri. Fun times. #DrWho pic.twitter.com/WuBMOv4hLN

— Noel Clarke (@NoelClarke) November 11, 2014
• Chris Chibnall, Who writer and creator of Broadchurch and Gracepoint, tweeted this photo of David Tennant's desk from the Gracepoint set. Apparently, the photo was taken by Tennant himself and shows telephone messages from one R. Tyler, a D. Noble, and a Martha Jones.
[Right way up now!] Genuine #Gracepoint props from David Tennant's desk: phone messages for Detective Carver. pic.twitter.com/Mciim4pyqJ

— Chris Chibnall (@ChrisChibnall) November 13, 2014
• See this gallery of some of the best Twelfth Doctor quotes, including this swashbuckling statement:
• Let us round things up with a little bit of disappointing news. It's looking very unlikely that the Doctor will ever meet Sherlock Holmes; Wholock is officially cancelled, according to Steven Moffat (and he should know): "Sherlock Holmes exists as a fictional character in the Doctor's universe – he's even dressed up as him!
"I've always been moderately more in favour than anyone else, but I think Mark Gatiss is right when he says it would just never be as good as you think it's going to be."
Oh I dunno…
TTFN!
Read More
Filed Under: