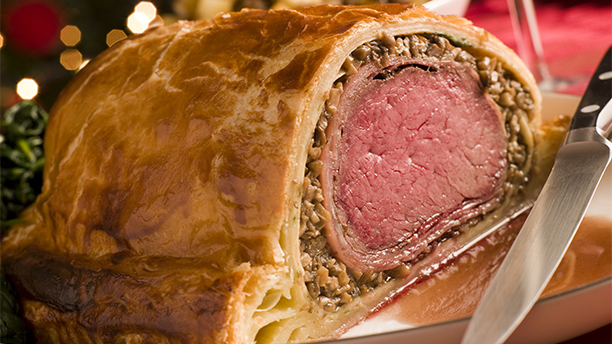 Although we don't grow up with Thanksgiving, Brits in the U.S. are often charged with the task of "doing" Thanksgiving dinner anyway. It's stressful enough for Americans, but, for Brits, it's compounded by strange food and the inevitable American in the wings intent on explaining how Thanksgiving is "usually done." (Cause for the first family argument, perhaps?) Canny Brits, however, have come up with a way to avoid this culinary minefield: Get your Brit on.
Yes, instead of trying to match the impossible standards of great aunt Fanny's cornbread dressing or cousin Betty's mashed potatoes, give the whole thing a British spin. Better still, insist on doing it all yourself; no need for guests to bring anything but themselves and perhaps a bottle of wine. (In my experience, you will still probably end up with an extra side dish and three desserts. Make sure you have Tupperware on hand to send some of it back home.)
The meat
Sure, we can still have turkey, but let's do it à la Nigella and give it a European flavor—turkey stuffed with Italian sausage perhaps. Many Brits aren't wedded to turkey and will serve a different bird or something like Beef Wellington instead. However, if you're taking the non-turkey route, I'd put some feelers out first. You don't want to cause another revolution.
The veg
Yes, I'm going there with Brussels sprouts, just not boiled into submission. Seriously, there are some delicious sprouts recipes around; here's one of my favorites starring pancetta and balsamic vinegar. Since we also lean towards roasted potatoes—or "roast" potatoes—here's a great recipe using either duck fat or olive oil. What probably won't appear at a Britified Thanksgiving table, however, are vegetables doused with sugar, syrup or anything else normally associated with dessert, which means no candied yams. And absolutely NO green bean casserole!
Condiments
If it's turkey, let's serve traditional sage and onion stuffing and cranberry sauce. However, whip up a mint sauce if it's lamb and a sinus-clearing horseradish if it's beef. Wherever possible, include condiments involving alcohol like Nigella's recipe (see above), which includes a mouth-watering marsala steeped cranberry sauce.
Dessert
While we can use the same ingredients as a traditional Thanksgiving dessert, there will be a twist, and probably more alcohol. (Don't worry, most of it cooks off.) Gordon Ramsay's Savoy Grill in London, for example, serves Pecan and Golden Treacle Tart with Bourbon ice cream, while I'll be attempting this Williams-Sonoma Pumpkin trifle with brandy. If you're sick of the smell and sight of pumpkins, how about this delicious Chocolate Bread Pudding with Bourbon Pecan sauce. (Guests will just be thankful we're not inflicting the booze-soaked Christmas pud on anyone!)
Drinks
If anyone's around in the morning, a selection of bucks fizz (a.k.a. mimosa) and sherry should be served. Apparently sherry's "surging in popularity" at the moment, so if you want to look like a finger-on-the-pulse host, here's a handy guide to the different types.
You may be asking, "Who's cooking the meal then?" But many a Brit has managed Christmas dinner thus fortified. (By the way, a 2013 study found that the average Brit has his/her first alcoholic drink by 9:05 am on Christmas Day. Probably not a good idea to start that early if you're in charge of Thanksgiving.) A lovely idea for Thanksgiving evening (particularly if it's cold and blustery outside) is mulled wineJamie Oliver's recipe is pretty doable and very tasty. You can always fiddle around with the fruit, replacing his lime, lemon, and clementines with whatever you have in the kitchen.
Caveat
If my American husband's reaction to Britifying Thanksgiving is anything to go by, you might want to run your ideas past any loved ones first. Rather than converting the whole meal to a British version, I suggest throwing a traditionally American dish or two in there if you fear upsetting your guests.
Need help or ideas for your Thanksgiving dinner? Send questions for chef James Briscione at the Institute of Culinary Education (@iceculinary) and recipes using hashtag #MindTheChat on Wednesday from 2-3 pm ET on Twitter. Two participants using hashtag #MindTheChat will win Doctor Who Season 8 (starring Peter Capaldi) on DVD.
See more:
Thanksgiving Notes for Brits
A Matter of Taste: An Expat on Differences Between British and American Palates
A Brit's Guide to the Holiday Season
Read More
Filed Under: