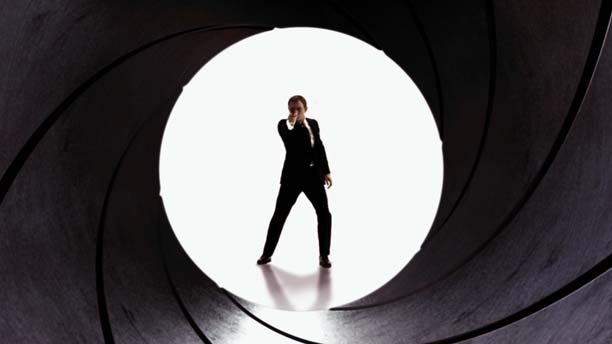 Each year, the arrival of Thanksgiving seems to also beckon a steady stream of James Bond marathons on various channels on television.
However, let's not forget that our favorite Bonds have had successful careers outside of MI6. In case you're looking for a little more variety in your Thanksgiving weekend binge watching, here are our Bond actors in roles that are not 007:
1. Sean Connery
Known just as much for being Bond as he is for his famous Scottish brogue, Connery took on the role from Dr. No to You Only Live Twice. He went on to continue an illustrious career in a number of action/dramas:
The Hunt for Red October
Based on Tom Clancy's novel of the same name, the film is set during the Cold War and follows a rogue Soviet naval captain, commander of the Red October nuclear sub, who plans to defect to the United States (Connery). However, an American CIA analyst (Alex Baldwin) correctly deduces his strategy, and must work to avoid a violent confrontation between the two nations.
Watch The Hunt for Red October on Netflix. 
Finding Forrester
Connery plays a reclusive writer who befriends a teenager (Rob Brown) and comes to help him refine his writing and pushes him toward self-realization.
Watch Finding Forrester on Netflix.
Highlander
This fantasy-action film alternates between 1500s Scotland and 1980s New York City to tell the story of an ages-old battle between immortal warriors.
The Untouchables
Connery won an Academy Award for Best Supporting Actor in Brian de Palma's 1987 crime drama based on the Elliot Ness's memoir. The film follows Ness's accounts of the efforts to bring Al Capone (Robert De Niro) to justice during Prohibition.
Watch The Untouchables on Netflix.
The Presidio
Connery excels as Lieutenant Colonel Alan Caldwell, the base Provost Marshal at the Presidio Army base in San Francisco where an officer is shot and killed while investigating a break-in. Caldwell is then forced to work with an old subordinate (Mark Harmon) to track down the killer.
Watch The Presidio on Netflix.
First Knight
One of many films based on the Knights of the Round Table, First Knight follows Sir Lancelot's (Richard Gere) romance with Queen Guinevere (Julia Ormond) despite her marriage to King Arthur (Connery).
Watch First Knight on Netflix.
The Longest Day
Connery joins an impressive cast including John Wayne, Richard Burton, and Henry Fonda in this epic about the events leading up to D-Day.
Watch The Longest Day on Netflix.
Playing By Heart
Amongst an ensemble of seemingly unrelated characters, Connery and Gena Rowlands play an older couple about to renew their vows. The film slowly exposes the characters's connections to each other as their stories evolve.
Watch Playing By Heart on Netflix.
2. George Lazenby
The Australian George Lazenby stepped into Connery's tailor made suit, quite literally (he reportedly spent his last pounds acquiring a suit that was originally made for Connery in order to audition for the role), for a one-off in Her Majesty's Secret Service. However, he quit his stint as Bond just before the premiere of the film due to the fourteen page contract that he deemed to be too demanding, and moved onto other things :
Winter Break
Lazenby co-stars in this comedy about four post-grads in Aspen attempting to figure out their futures.
Watch Winter Break on Amazon Instant.
Spider's Web
This crime thriller involves a businessman (Stephen Baldwin) who plots with an executive (Kari Wuhrer) to swindle his father, but instead gets wrapped up in a complicated scheme.
https://www.youtube.com/watch?v=kc9oCG9wdKI
Watch Spider's Web on Amazon Instant.
3. Sir Roger Moore
Moore technically took over Bond from Sean Connery, who revived the role one last time in Diamonds Are Forever after Roger Moore's one-off.
Street People
Moore stars in this 1976 crime drama about a Mafia boss who attempts to deny his involvement in a drug smuggling case in San Francisco.
Watch Street People on Netflix or Hulu.
Spice World
Believe it or not, Sir Roger Moore himself played the Chief in this British classic: a fictionalized documentary of the days leading up to the Spice Girls's major concert at Royal Albert Hall.
The Enemy
Moore plays Superintendent Robert Ogilvie in a thrilling drama about a CIA agent and a geneticist who battle to keep a deadly biological weapon from falling into the wrong hands.
The Wild Geese
The Wild Geese sees Moore starring alongside Richard Burton as a British pilot who is unknowingly duped into selling illicit goods to the local mafia.
Watch The Wild Geese on Netflix.
The Last Time I Saw Paris
Loosely based on F. Scott Fitzgerald's Babylon Revisited, the romantic drama focuses on an American writer (Van Johnson) who returns to Paris to reminisce about the life he led there at the end of World War II.
Watch The Last Time I Saw Paris on Hulu.
4. Timothy Dalton
Though Pierce Brosnan was offered the role before Dalton was, Brosnan had to decline due to a contract with an NBC series, thus paving the way for Dalton to take his martini shaken, not stirred, in The Living Daylights and License to Kill.
Jane Eyre
Dalton took on the role of the brooding Mr. Rochester in this adaptation of Charlotte Brontë's classic novel.
The Rocketeer
This Disney superhero film centers on a young pilot (Billy Campbell) who stumbles upon a prototype jetpack that allows him to become a flying, masked hero.
Watch The Rocketeer on Netflix.
Secret of the Wings
Secret of the Wings is an animated film based on the Disney Fairies franchise, and revolves around Tinker Bell and her fraternal twin sister.
Watch Secret of the Wings on Netflix.
Sextette
Known as Mae West's last film, Sextette sees Dalton as Sir Michael Barrington, the newest husband of legendary film star, Marlo Manners (West).  
Doctor Who
Doctor Who meets 007? Not quite, but Dalton had a brief stint on Doctor Who as Rassilon in "The End of Time."
5. Pierce Brosnan
After a years-long hiatus, Bond came back in the form of Irish actor Pierce Brosnan, who played the role from GoldenEye to Die Another Day.
Dante's Peak
The fictional town of Dante's Peak must work to survive the eruption of a volcano that could come at any moment.
Watch Dante's Peak on Amazon Instant.
A Long Way Down
This British black comedy centers upon four strangers who happen to meet on a rooftop of a London building on New Year's Eve. It all sounds very romantic until you realize that they've all come on the roof with the intention of committing suicide. Their plans, however, are halted when they form a pact with one another to stay alive until at least Valentine's Day.
Watch A Long Way Down on Netflix.
Robinson Crusoe
Brosnan takes the titular role in this loose adaptation of Daniel Defoe's novel.
Watch Robinson Crusoe on Netflix.
Stephen King's Bag of Bones
This television mini-series based on Stephen King's novel sees Brosnan as a writer coping with his wife's sudden death when he begins to receive mysterious ghostly visitations and escalating nightmares.
Watch Stephen King's Bag of Bones on Netflix.
Grey Owl
Brosnan plays a British man who reinvents himself as a North Indian trapper in Richard Attenborough's 1999 film.
Watch Grey Owl on Netflix or Hulu.
I Don't Know How She Does It
Brosnan stars alongside Sarah Jessica Parker in this American comedy about a finance executive who is the breadwinner for her husband and two children.
Watch I Don't Know How She Does It on Netflix.
Nomads
This horror film involves an anthropologist/nomad expert (Brosnan) who stumbles across a group of urban nomads who turn out to be more than he expected.
Shattered
Also known as Butterfly on a Wheel, this thriller revolves around a family whose idyll is threatened when a kidnapped (Brosnan) abducts their daughter.
6. Daniel Craig
Now onto the man currently holding the keys to Bond's Aston Martin, Daniel Craig. Craig took over the role from Brosnan starting with Casino Royale, and is set to play 007 once again in Bond 24, filming next year. He's also announced to star in Bond 25, meaning he'll have at least five Bond films under his belt so far.
Archangel
This television film aired on BBC One and stars Craig as a man in Communist Russia who investigates a mystery concerning Josef Stalin.
Defiance
Set during the occupation of Belarus by Nazi Germany, Defiance stars Craig as one-third of the Bielski brothers, who saved and recruited Jews in Belarus during World War II.
Tomb Raider
Before he was Bond, Craig starred opposite Angelina Jolie as Lara Croft's ex-partner, Alex West.
Dream House
Craig plays opposite his now-wife, Rachel Weisz, in this horror film about a family who learns of a brutal crime that took place in their new, seemingly idyllic home.
See more:
Brit Binge Watching: Five Keira Knightley Roles You Can Stream Online
Brit Binge Watching: Five Interesting Biopics Available Online
Brit Binge Watching: Six British Horror Flicks Available Online
Read More
Filed Under: