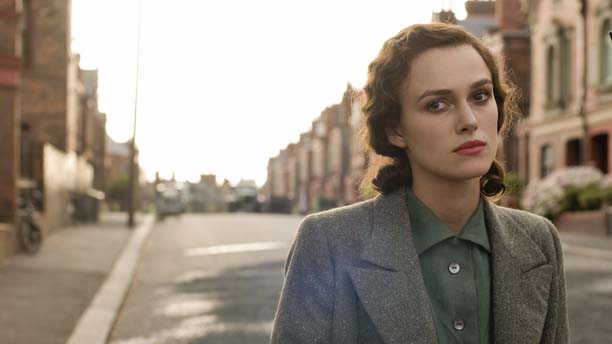 After a relatively quiet year following 2012's Anna Karenina, Keira Knightley has been hitting the big screens in a big way again with the release of Jack Ryan: Shadow Recruit, Begin Again, Laggies, and now The Imitation Game, all within this year.
On top of that, she's been making her statement against photo retouching and joining her Imitation Game costar Benedict Cumberbatch in playing literal imitation games, giving us her impression of the fan favorite himself.
In honor of the film's upcoming release on November 28, here are five of her roles, available to stream instantly.
1. Pirates of the Caribbean: The Curse of the Black Pearl
Knightley burst onto the scene in this swashbuckling hit as Elizabeth Swan, a governor's daughter with a taste for adventure. Her kidnapping at the hands of Captain Barbossa (Geoffrey Rush) causes childhood-friend-turned-love-interest Will Turner (Orlando Bloom) to enlist the help of the notoriously bumbling Captain Jack Sparrow (Johnny Depp) to find her.
Watch Pirates of the Caribbean: The Curse of the Black Pearl on Netflix.
2. Atonement
Based on Ian McEwan's novel of the same name, Atonement follows the irrevocable damage that comes after 13-year-old Briony Tallis (Saoirse Ronan) accuses her sister Cecilia's (Knightley) lover, Robbie (James McAvoy), of a crime he didn't commit. Rounded out with stellar performances by Romola Garai and Vanessa Redgrave, Atonement went on to sweep awards season and earned Knightley a Golden Globe nomination.
Watch Atonement on Amazon Instant.
3. The Duchess
Knightley elegantly dons a corset (not for the first or last time) to tackle the role of Georgiana Cavendish, the Duchess of Devonshire and ancestor of Princess Diana. Georgiana, at age 17, is married off to the Duke of Devonshire (Ralph Fiennes) and thrives despite her husband's blatant coldness and numerous infidelities. Knightley captivates as she seamlessly takes Georgiana from youthful optimism in her late childhood to full adulthood, 10 years later.
4. Love Actually
It's not quite Christmas yet, but as the film begins five weeks before Christmas Day, it may not be a bad time to brush up on this recent British classic. More than a decade after its theatrical release in 2003, Love Actually remains something of a holiday staple, and it's no wonder why. Where else can you get Hugh Grant, Liam Neeson, Emma Thompson, Alan Rickman, Bill Nighy, Rowan Atkinson, and Knightley herself (just to name a few) all together in one huge Brit-fest? Extra points for the iconic "To me, you are perfect" scene Knightley shares with Andrew Lincoln below.
Watch Love Actually on Netflix.
5. Begin Again
Knightley has since said that she has no intentions of singing in a movie again after filming this one. If that turns out to be the case, we can relive the glory days in this musical comedy-drama about two down-on-their-luck individuals who help each other to—you guessed it—begin again. Knightley plays Gretta, a singer-songwriter who's just broken up with her boyfriend (Adam Levine) and finds herself being discovered by a struggling record label executive (Mark Ruffalo).
Watch Begin Again on Amazon Instant.
See more: 
Brit Binge Watching: Five Interesting Biopics Available Online
Brit Binge Watching: Six British Horror Flicks Available Online
Brit Binge Watching: Five Dame Judi Dench Roles You Can Watch Online
Read More
Filed Under: