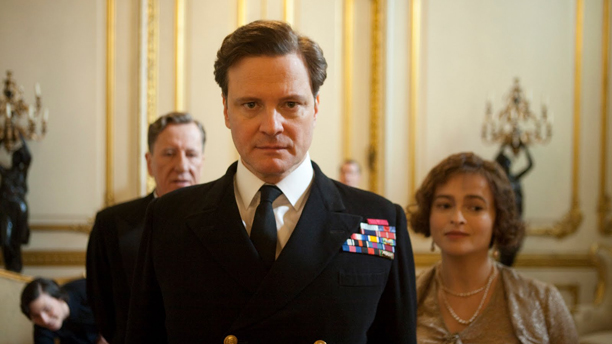 Eddie Redmayne has been earning praise left and right for his portrayal of Stephen Hawking in The Theory of Everything. In fact, after a screening of the film, Hawking himself told Redmayne, "I thought it was me on screen."
In addition to that immensely moving compliment, Redmayne and co-star Felicity Jones, who plays Hawking's first wife, Jane, are earning well-deserved critical acclaim ahead of awards season and are looking to be likely candidates in the Oscar race. (Watch our interviews with both Redmayne and Jones.)
In celebration of The Theory of Everything's release (in limited theaters November 7, opening wider November 14), here are five other interesting British biopics, available to stream online now.
1. Hawking
Speaking of Stephen Hawking, let's not forget that another fan favorite has also stepped into the genius's shoes (and wheelchair). In 2004, Benedict Cumberbatch starred in this BBC television film about the theoretical physicist's early years as a student at Cambridge.
Watch Hawking on Amazon Instant.
2. My Left Foot
Daniel Day-Lewis won the Oscar for his portrayal of Christy Brown, an Irishman born with cerebral palsy. Brown eventually only retained control over his left foot (hence, of course, the title) but persevered to become a writer and artist with the help of Dr. Eileen Cole (Fiona Shaw).
Watch My Left Foot on Netflix.
3. Nowhere Boy
Nowhere Boy charts John Lennon's (Aaron Johnson) teenage years and delves into his relationships with his mother (Anne-Marie Duff) and guardian aunt (Kristin Scott Thomas). Though the film doesn't mention The Beatles by name, Beatlemaniacs need not be disappointed—it does shed light on Lennon's first band, the Quarreymen, as well as his early friendship with Paul McCartney (Thomas Brodie-Sangster).
4. The King's Speech
A huge hit with audiences and critics alike, The King's Speech took home four Academy Awards for Best Picture, Best Director, Best Actor, and Best Original Screenplay. Colin Firth plays King George VI, who sees speech therapist Lionel Logue (Geoffrey Rush) to defeat his stammer. What follows is a heartfelt look into the man who overcame his difficulties to rally a nation.
Watch The King's Speech on Netflix.
5. Iris
Iris sees Kate Winslet as British novelist Iris Murdoch, who meets fellow student John Bayley (Hugh Bonneville) in her early years at Oxford University. The film contrasts their early relationship with their later life, when Bayley (now played by Jim Broadbent, who won an Oscar for the role) tended to Murdoch (now played by Judi Dench) while she suffered from Alzheimer's.
See more:
Brit Binge Watching: Six British Horror Flicks Available Online
Brit Binge Watching: Five Dame Judi Dench Roles You Can Watch Online
Brit Binge Watching: Five Tom Hiddleston Roles You Available Online
Read More
Filed Under: