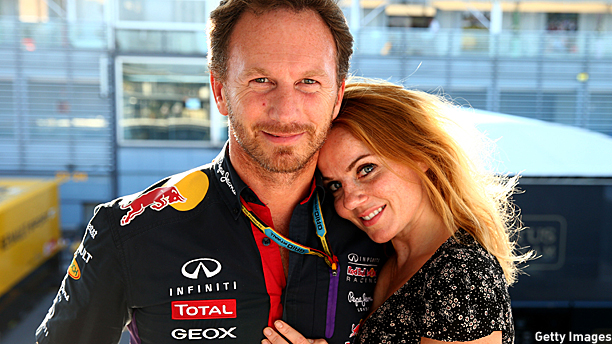 Last week (November 5, to be precise), Benedict Cumberbatch took the very gentlemanly step of advertising his engagement to Sophie Hunter in an advert in the Times.
He told USA Today it was simply the right thing to do in the circumstances, entirely removed from either of their public profiles: "It's what I would have done if I wasn't famous. It's a normal thing to do in my country. It was a way of telling our friends who we hadn't been able to tell before (they saw) some grainy shot of a ring on her finger."
And with that in mind, you may be interested to know that former Spice Girl Geri Halliwell has also announced her engagement—to Christian Horner, Team Principal of the Infiniti Red Bull Racing Formula One team—in precisely the same way.
Here's her announcement:
.@GeriHalliwell announces engagement in today's Times http://t.co/I5ii5ZWbMA pic.twitter.com/ODedw1ciw3

— The Times of London (@thetimes) November 11, 2014
And the Cumberbatch original:
Benedict Cumberbatch's parents announce his engagement in The Times. http://t.co/C6IEcs3eI9 pic.twitter.com/GGZpaZgIwJ

— BBC Ents News Team (@BBCNewsEnts) November 5, 2014
Not that we're suggesting any kind of copying, you understand. The tradition of announcing an engagement in the Times goes back decades, and even this recent upswing in profile is not without precendent. The broadcasters David Mitchell and Victoria Coren did it, and so did Eddie Redmayne and Hannah Bagshawe.
So it seems Mr. Dylan was quite wrong. The Times they are a-not changing after all.
See more:
WATCH: Sir Paul McCartney Helps Two Fans Get Engaged
Something Old, Something New: TARDIS Engagement Ring Box
#AskBenedict: The Best of Benedict Cumberbatch's Twitter Q&A
Tom Hardy's Secret Wedding Becomes Unsecret
Read More
Filed Under: