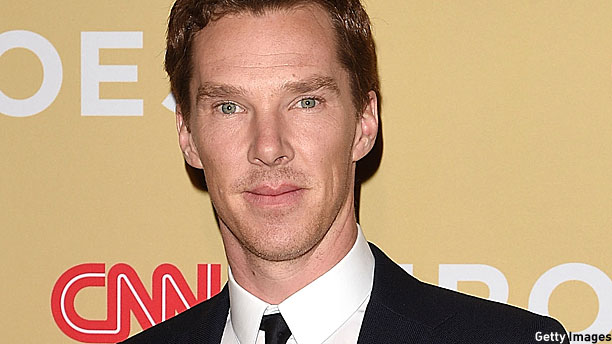 Oh now here's a question.
During one of the astonishingly huge amount of press interviews Benedict Cumberbatch has given to promote his role as Alan Turing in The Imitation Game, he expressed the thought that he hasn't ever played the romantic lead in a romantic movie about romance.
The way he said it to Vulture was like this: "I've never had a (Ryan) Gosling moment as a character. I've never been the kind of guy who's made all the girls go gooey," and then there's a moment of mock bravado. "I think it's about time I did."
But is it? Certainly the world does not need a spate of Hugh Grant-style rom coms starring Benedict as an emotionally repressed (read: British) bookish man with a need for order in his life who slowly learns to love the chaotic child of nature (read: free-spirited American) that moves in next door. Not because he couldn't do it, but because his most attractive qualities as a performer—sly voice, feral intelligence, ferocious emotional focus—would have to be played down in the final reel and who wants that?
Also, those movies get made a lot.
There's the alternative narrative, in which the free spirit becomes tamed by the order and manners of the reserved character, and if anyone's thinking of making a new version of Pygmalion (or My Fair Lady, assuming he's up to the Rex Harrison standard of singing), Benedict would be an ideal choice for Professor Henry Higgins.
And that's because tends to play singular people, not necessarily just those blessed with greater intelligence but certainly those who are at odds with society, which romantic leading men tend not to be. Definitely more of a Khan than a Kirk. Even his description of himself as a sex symbol suggests a certain suspicion about the expectations of a handsome man in Hollywood: "It's utterly the most inept superpower you could possibly imagine: 'You're really famous, and you're a sex symbol. Go!'"
So, the question is not whether he is capable of pulling off those Gosling moments, because clearly he's a talented enough actor to play the emotional truth of most situations, even "gooey" ones. But he's definitely closer to Richard III than he is Romeo, so it'll take a particular kind of script, that's all.
Although if there is ever a voguish return to the kind of sharply-scripted bickering movies Cary Grant used to make with Katherine Hepburn, he's got to be on the wish list.
See more:
WATCH: Jon Stewart Gets Frisky with Benedict Cumberbatch, Seth Meyers Tries with Eddie Redmayne
Benedict Cumberbatch and Sophie Hunter Step Out in NYC
WATCH: Benedict's Tom Hiddleston Impersonation
WATCH: Now Keira's Doing Benedict Impressions
Read More
Filed Under: