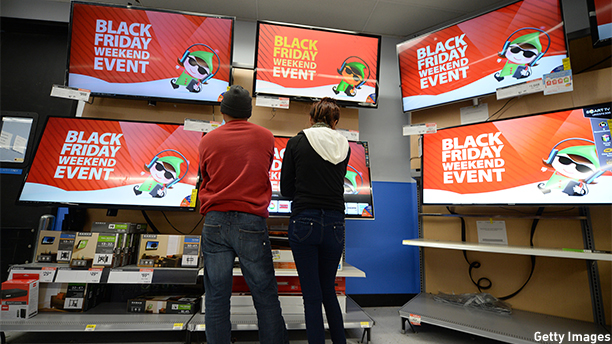 Don't be fooled into thinking Thanksgiving is all about the food. Many Americans are just as passionate about the retail deals to be had the following day as they are about turkey and cranberries. Black Friday is traditionally the best day of the year to scour the shops for bargains in the U.S. but it's still possible to get sidetracked and ripped off. Follow our helpful pointers and you're more likely to scoop up quality goods for a fraction of the usual price.
1. Be an early bird and shop online
Most if not all BF deals will appear, at least briefly, on stores' websites. So hit the shops—virtually—as soon as you're awake to snaffle the best buys. If you can't resist an in-store Black Friday experience, then at least arrive armed with your smart phone or tablet to check that you definitely couldn't save more by ordering online. If you're planning to stay up late on Thanksgiving then consider heading to stores running night owl specials – usually from midnight onwards.
2. Be cautious when it comes to clothes
Experts say that the biggest reductions on clothing tend to appear in late summer or January, but if you do insist on shopping for new threads this Friday, look for deals that offer at least 40 percent off—plus free shipping if you're buying online. However, some brands almost never offer price drops (including big names like Patagonia and Christian Dior), so if you're aware that one of your favorite labels is among this elite band then scoop up what you can if it's even only slightly discounted on Black Friday.
3. Download apps that will help you find the best deals
There's nothing in the Black Friday rulebook that says you need to do all the legwork. Download tools like RetailMeNot or BlackFriday.com's shopping app and you'll save a bunch of cash by letting these programs do everything from showing you the latest Black Friday ads to finding coupons and aggregating the best deals.
4. Carry printouts with you
Whether its coupons offering you extra cash off or evidence of lowest price guarantees, always have your paperwork handy. Shop staff may not even be aware of their employer's price matching promise on certain items, so help them out by presenting the evidence.
5. Research store card deals
If you have credit cards for certain shops, investigate what extra discounts you might be entitled to. Do this online or on the phone before you hit the stores and print out the relevant pages so you can counter any resistance from frazzled, ill-informed staff. Remember: be sure to pay off store card debt immediately or the charges could more than wipe out the money you saved.
6. Shop as a team
If you have a partner or teen kids who can be trusted with your credit card details or a wad of your hard-earned cash, then divide the Black Friday bargain-hunting task amongst them. Put someone on clothing detail while the tech genius in your household investigates new laptops and blenders.
7. Use social media
Some stores will disperse coupons and codes via their Facebook page, Twitter and emails to "loyal" customers. Don't miss out. Leading up to Black Friday, friend and follow stores you're interested in perusing, and sign up to receive email alerts.
8. Write a list and stick to it
Resist the impulse to stack your shopping cart with random cheap goods by making a list of what you actually need. If you can't trust yourself to stick to a plan, take cash out in advance and leave your cards at home. That way, at least you won't overspend even if you do come home with 30 inflatable reindeer, which you just had to have because they were 80 percent off.
9. Use cards that offer cash back, points and price protection
Make Black Friday deals work even harder for you by putting all your purchases on credit cards with great cash back or points features. These cards might also offer price protection, which mean that if the item you bought on Black Friday gets even cheaper within a certain window (the rules vary from card to card, so check the small print), your provider will refund the difference.
Did any, if not all, of these tips resonate with you? 
See More:
How to British Up Your Thanksgiving Dinner
Thanksgiving Notes for Brits
WATCH: Ricky Gervais Has a Special Thanksgiving Message for British Airways Flyers
Read More
Filed Under: