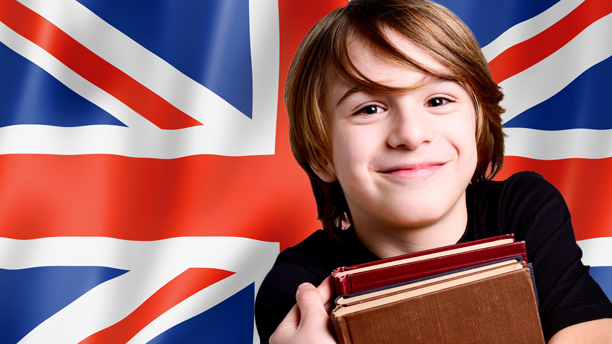 British expats, if you had babies here, I hate to break it to you: They're Americans. Nevertheless, they're also British by descent. Having two passports, however, doesn't alter the fact that your burgeoning offspring might seem a little like aliens—albeit adorable ones—as they grow into syllable-slurring, corn dog-chomping yanks. There's not much you can do to halt this process other than pack your bags and head back to Blighty permanently, but you can make sure to inject a bit of Britishness into their upbringing.
Show them U.K. TV
If you're fine letting your children watch some telly (and let's face it, most parents eventually fall into this camp), make sure some of their screen time is dedicated to British shows. Apart from Sesame Street, there's little quality American TV for children anyway. Certainly nothing rivals recent British classics like In the Night Garden and Peppa Pig.
Read them British books
While writing this, an email arrived notifying me that my 20-month-old daughter's tiger costume and plastic teapot shipped. Excellent. Because to celebrate our first "American Halloween" with a vaguely cognizant toddler, she's going to dress as the very British "Tiger Who Came to Tea." Like most American kids belonging to U.K. expats, she owns a healthy spread of books by authors of each nation, but I'm aware I'm frequently steering her toward those where the characters say "mummy" and eat sausages and chips for supper. Will this make her feel more British? Only time—and enough Roald Dahl to sink a giant peach—will tell.
Take trips to the U.K.
If your own British accent and ideals are fading away, let your U.K. family take over the indoctrination process. Even if you couldn't give two hoots about your children's Britishness, it's an excellent excuse to dump them with the grandparents so you can zip off to Paris for the weekend. Or Rome. Remember your old life when European mini-breaks were a thing? They can be again! And you can holiday safely with the knowledge your kids are receiving a steady supply of character -building Marmite sandwiches, Crunchies, and apathy from the grandparents.
Encourage the grandparents to visit regularly
Gently persuade your folks to spend the majority of their retirement and savings on flights to the U.S. and Airbnb apartments 10 minutes from your place. Having them around is a superb way to ramp up your young American family's exposure to Britishness. In addition, with a free babysitting service just around the corner, you'll be able to head off on many more blissful, childless vacations.
Cook British food
These days, there aren't many international culinary supplies that can't be sourced online—or at your local supermarket. So making your kids the meals and snacks you grew up with involves minimal effort. You may just need to explain to little Peter and Jane that, while at home, we call those breaded orange oblongs "Fish Fingers" and the smaller yellow ones "chips." Their friends may insist on referring to them as "Fish Sticks" and "fries."
Teach them British English
You'll find yourself imparting your own vocabulary without even trying. I'm personally fascinated to see how my daughter handles learning two languages. Yep, I'm pretty sure that mastering British English and American English means you're bilingual. I'll be sure she writes that on college applications.
Meet other expat Brits with kids
To cement the dual-culture learning process for your children, join local British groups aimed at parents. If there's not already a meet-up established in your area, why not start one? Call your group something with "beer" in the title ("Brit babies and beer?") and the expats will come racing like starving lions who've just spotted an overweight antelope.
See more:
British Expat Parenting: The Trial of Having American Kids
How to Fly With Kids: A British Expat's Guide
Should I Move to the 'Burbs?: When to Ditch Urban America
Read More
Filed Under: