If you're an expat desperate for the taste of MacClean's Traditional Toothpaste or an Anglophile with regular cravings for Cadbury chocolate (you know, the real stuff), look no further—we've found ten foolproof places for U.K. treats and supplies:
1. Myers of Keswick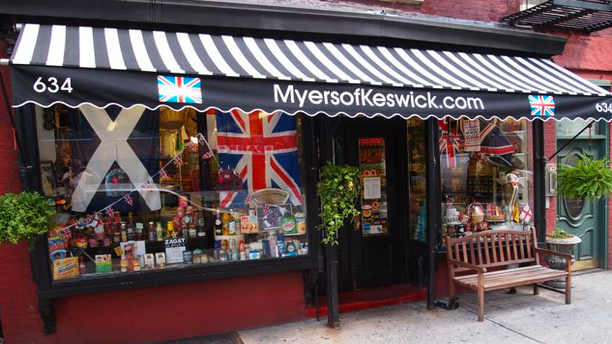 Located in the "Little Britain" of NYC—a tiny oasis located on 634 Hudson St. in the West Village—Myers of Keswick is the most popular (and most reliable) place to frequent if you're looking for traditional British goods. Myers of Keswick opened in 1985 by Peter Myers who—you guessed it—hails from Keswick, England. They stock a boatload of British treats, sweets, home goods, and freshly made foods such as pie, sausage, and cheese. Myers of Keswick is also home to Myers' cat Molly, the shop "princess," who was adopted by Myers and his wife in 2006. And since Christmas is just around the corner, check out their selection of Christmas pudding, mince pies, and more.
2. Village Farm & Grocery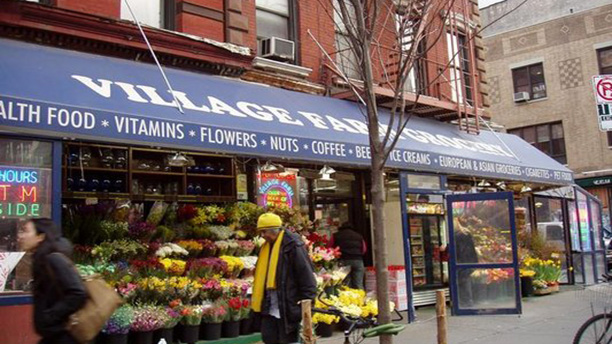 Village Farm and Grocery is family-owned and operated. Their stock of U.K. (and Irish) imported goods is massive, from Ribena to Hula Hoops. Village Farm and Grocery is located on 69 2nd Ave. in the East Village and deliver throughout Manhattan 24 hours a day and are available on delivery websites like Seamless.
3. Carry on Tea and Sympathy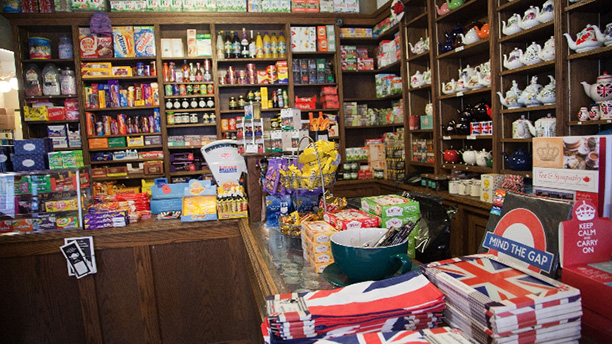 Carry on Tea and Sympathy doubles as part restaurant and part British grocery, tea, and gift shop. So, you can pop in for a Roast Beef and Yorkshire pudding—"like your mum used to make" and leave with a Doctor Who Police Box Mug. What more could you ask for? Tea and Sympathy also offers an array of British groceries, seasonal items, and tea (including their own brand). Fun fact: Tea and Sympathy is named after the 1991 British comedy sitcom Rich Tea and Sympathy. Tea and Sympathy is located on 108 Greenwich Ave. in the West Village.
4. Butcher Block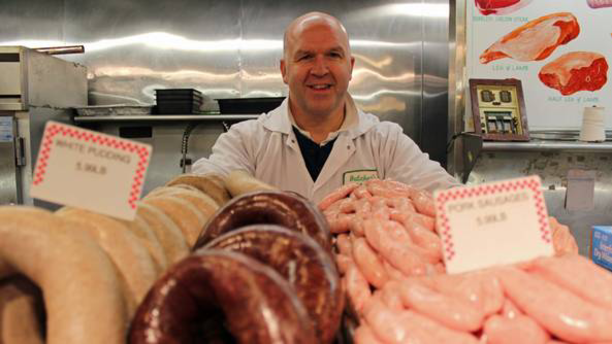 Butcher Block, located at 4346 41st St. in Sunnyside, is a butcher shop specializing in British and U.K. meats and meals like corned beef, black sausage, stews, ham, sausage rolls, and curries. They also have an entrance separate from the butcher where a wall "10 feet high and 20 feet long" offers up a variety of British crisps, cookies, sweets, and condiments such as Wispa, HP Steak Sauce, Colman's Mustard, Maltesers, and McVitie's biscuits. They also offer Christmas puddings and mince pies around the holidays!
5. Blue Apron Foods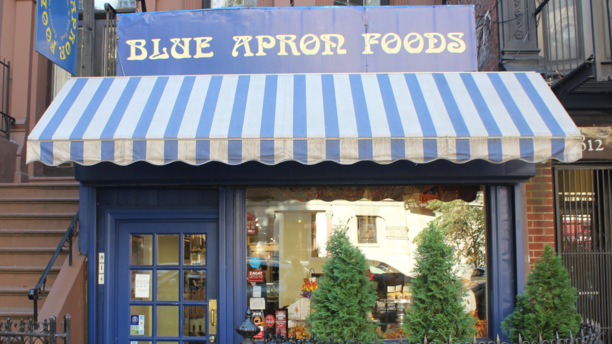 Located in the heart of Park Slope at 814 Union St, Blue Apron Foods is both a charcuterie (a delicatessen specializing in dressed meats and meat dishes) and specialty cheese shop offering British Brie, Camembert, and butter; they also carry British chocolates and sweets including Chunky Kit-Kats and Lion, Aero, and Yorkie bars.
6. Bedford Cheese Shop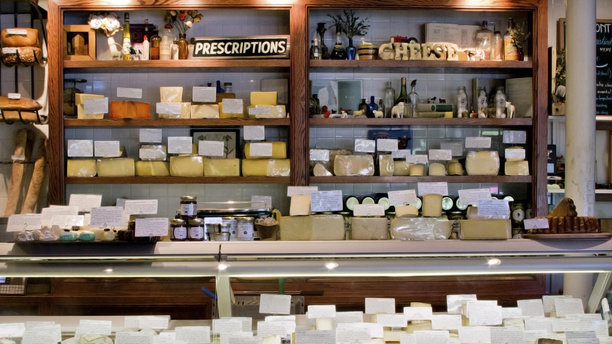 While small, the Bedford Cheese Shop holds loyalty to their "family of local and international food producers and are "dedicated to the time honored traditions of the culinary and agricultural world," explaining the vast amount of imported British goods in the store. They stock crisps, biscuits, and chocolate including McVitie's digestives and Hobnobs, Tayto's, Twiglets, Drifter bars, Tronky bars, and Toffee Crisp. Bedford Cheese Shop has two locations; one at 229 Bedford Ave in Williamsburg and the other near Union Square at 67 Irving Pl.
7. Shi Eurasia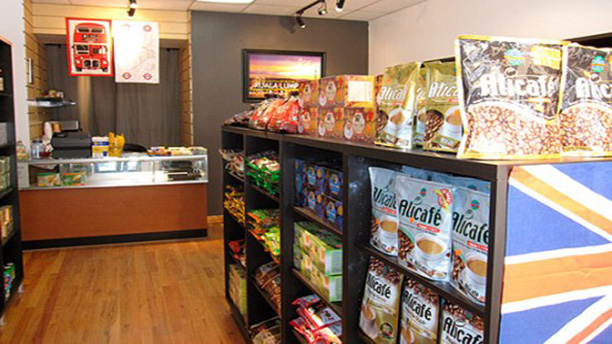 Shi Eurasia, located at 143A Orchard St. on the Lower East Side, stocks European food from the Netherlands to Turkey, but when it comes to British groceries, this place hits the jackpot. They offer baked goods, beverages, teas, biscuits, butter and cheese, candy, cereals, chips, chocolates, hot chocolate, noodles, condiments, and even souvenirs like Mind the Gap mugs and St. Andrew's and St. George's flags.
8. Handsome Dan's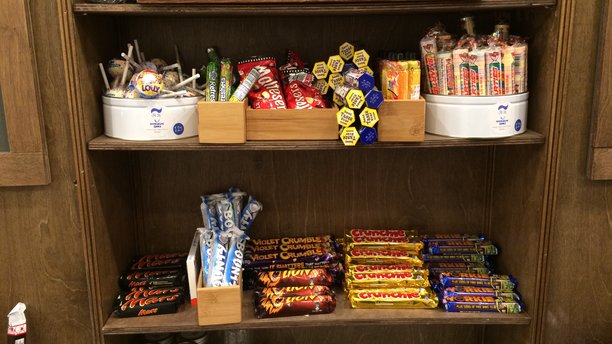 Handsome Dan's caters to the child in all of us, welcoming you to "relive your childhood and experience the kid in you no matter what the age." The store is like one big pick-&-mix, with a multitude of treats to satisfy every expat and Anglophile's sweet tooth. You can find Mars, Bounty, Lion, Crunchie, and Yorkie bars along with Smarties, Refreshers, Maltesers and ever-rare Dandelion Burdocks and Idrid Fiery Ginger Beer. Handsome Dan's has two locations; one in the East Village at 186 1st Ave. and the original at 218 Bedford Ave. in Williamsburg.
9. Fairway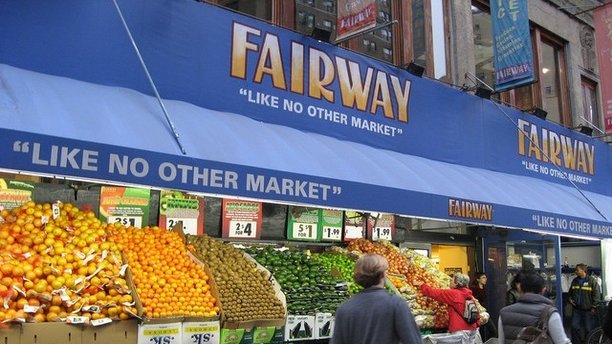 New Yorkers know Fairway as a typical supermarket, but each Fairway has a little known "British section." They have HP Sauce, Heinz Beans, Cadbury Drinking Chocolate, and tons more. For locations, click here.
10. Park Slope ChipShop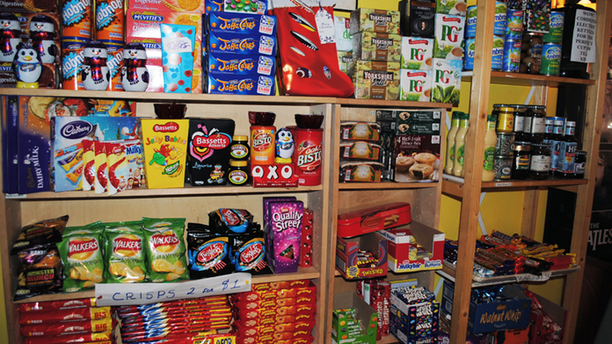 Established in 2001 by British native Chris Sell, Park Slope ChipShop at 383 Fifth Ave. doubles as part punk-rock Fish & Chips shop and part British grocer. Sell sought to create an authentic Fish & Chips joint in Brooklyn—and he delivered. The shop sells Walkers crisps, Bassetts sweets, PG tips tea, and an assortment of condiments. Park Slope ChipShop also offers seasonal treats like mince pies and has expanded to include a Brooklyn Heights location on 129 Atlantic Ave.
What's your first stop?
See More: 
10 British Things About Your U.S. City
A Brief Guide to British Cheeses
WATCH: Think British Food is Boring? 9 Dishes That Will Change Your Mind
Read More
Filed Under: