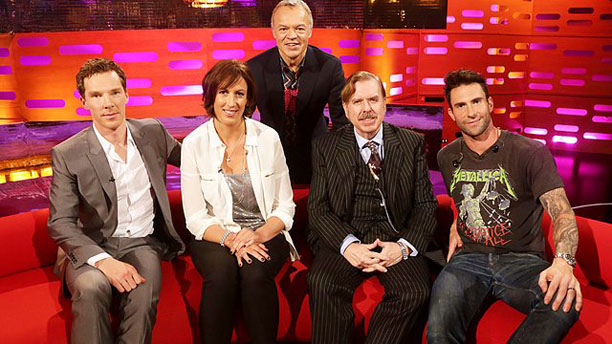 The famed red couch on The Graham Norton Show may be one of the most star-studded pieces of furniture in history. While most talk shows invite one or two guests at a time for a chat, Graham Norton goes the extra mile and calls in several famous faces at once. Just this season alone so far, his couch saw Peter Capaldi, Gemma Arterton, and Denzel Washington all in one go, and then played host to Robert Downey, Jr., Robert Duvall, Stephen Fry, and all four members of U2.
In addition to hosting A-listers, however, Graham also makes sure to leave room for beloved British celebrities who may be more popular in their native U.K. than elsewhere.
If you've seen the clips from this week's episode, chances are you've been inundated with Benedict Cumberbatch's Beyoncé strut and attempt at saying the word "penguin."
If you squint past Benedict's fun-loving antics, though, you may notice that there are two other British actors on the couch.
Of course you know Miranda Hart from her critically acclaimed show Miranda, which you can catch up on Hulu. Or you might recognize her as the kindly Nurse Chummy on Call the Midwife, currently streaming on Netflix.
But who might the other dapper gentleman on the couch be?
His name may not ring a bell just yet, but his face might. Noted character actor Timothy Spall is perhaps most famous for playing the ratty Peter Pettigrew (also known as Wormtail) in the Harry Potter films. Failing that, you might also recognize him as Winston Churchill in The King's Speech. If you haven't seen the film, though, he revived the role at the closing ceremony of the 2012 London Olympics.
These are just his biggest roles – Spall has made a name for himself over the years in supporting roles in films such as Hamlet, The Last Samurai, Vanilla Sky, and Lemony Snicket's A Series of Unfortunate Events.
Hard work seems to run in the family, as his son Rafe Spall has turned out scene-stealing performances in Life of Pi, Prometheus, and The World's End, amongst other things.
Come awards season, you may be seeing Timothy Spall's face and name a little more frequently, his turn as English landscape painter J.M.W. Turner in Mike Leigh's Turner is sweeping up critical acclaim at multiple film festivals ahead of its release this December.
Catch him, along with Benedict Cumberbatch, Miranda Hart, and Maroon 5, on The Graham Norton Show this Saturday (November 1)!
See more:
WATCH: What Happens When 'Doctor Who' Stars Visit 'Graham Norton'?
WATCH: 'The Graham Norton Show's Five Most Frequent Flyers
WATCH: Britain Flies Flag at Cannes With Mike Leigh, Ken Loach, Matt Smith's 'Lost River'
Read More
Filed Under: