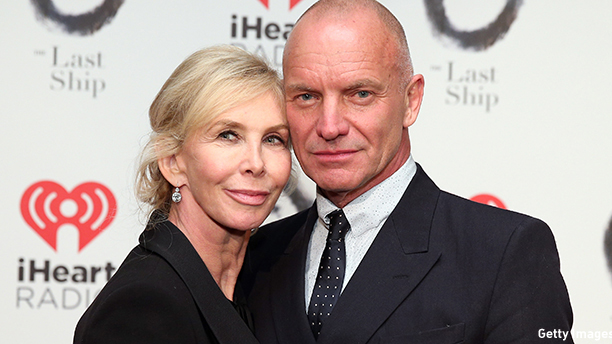 It was a big night for Sting on Sunday (October 26) at the Neil Simon Theatre in New York City as he made his debut as a lyricist and composer on the Broadway stage with The Last Ship. It's a project which he's spent several years developing and it's one close to his own heart.
It's set in his hometown of Wallsend in the North East of England. The story chronicles the efforts of a group of laid-off shipbuilders taking matters into their own hands and building a ship for themselves to sail off into the world.
Sting doesn't appear on stage, and it has nothing to do with The Police, but it's a very personal work and although it's not autobiographical you gain a lot of knowledge of Sting's inner life and values by watching the production.
The lyrics and songs have a haunting quality. It's a complicated work that's both melancholic and inspirational, showing the power of faith in mobilizing a community.
As Sting arrived at the theatre with his wife Trudie Styler he talked briefly with reporters. I managed to ask him if he felt the opening night of The Last Ship really represented a milestone in his career.
Here's what he had to say in response:
Do you have any plans to swing by Broadway to see The Last Ship?
See More:
The Brit List: 10 Great British Songs About New York
10 British Actors Trying Their Hands at Pop Music
WATCH: Arthur Darvill Sings 'Let It Go' With 'Doctor Who' Words
Read More
Filed Under: