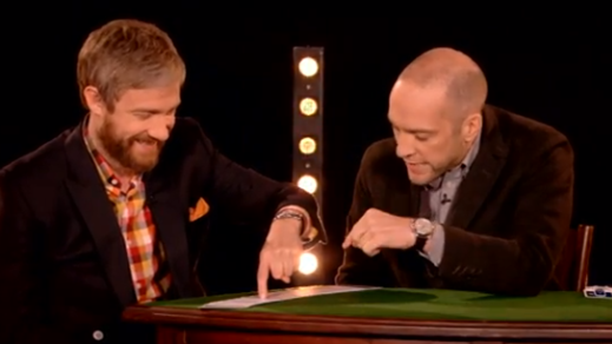 Sherlock's Martin Freeman, and his co-star and real life partner Amanda Abbington, sat down with British illusionist Derren Brown for some sleight of hand.
The three got together as part of Channel 4's Stand Up to Cancer special, airing in the U.K. on Friday, October 17, reports RadioTimes. This isn't the first time Freeman and Brown appeared on screen together, with the illusionist making a cameo in the season opener for the third series of Sherlock, hypnotizing Dr. John Watson.
Watson reuniting with Sherlock's accomplice for a head-to-head, in the name of charity, seems kind of perfect.
Maybe Freeman's off-camera friendship with Brown explains why the actor gets the giggles very early on in the video. Brown asks Freeman to pick a card, which he does, and then the illusionist follows up, saying, "You must be so happy that was a free choice."
This innocent observation just sends the actor into giggles.
The clip is short, and we only get to see the beginning of the brainteaser, but it's enough to leave us wanting more. You can watch the start of the card trick below (giggles ensue at 00:12):
Brown talked to the RadioTimes about Freeman's take on the exchange, saying, "Immediately afterward he was trying to work it out, really trying to pull it apart."
It turns out Abbington took a cooler approach, sitting back and enjoying the event, and not overthinking it.
How do you handle illusion: take it for what it is? Or try to figure it out?
See More: 
Martin Freeman is Not the Fonz, OK?
WATCH: Martin Freeman on the Wit and Humor in Richard III
Martin Freeman Humbled by 'The Hobbit'
Read More
Filed Under: