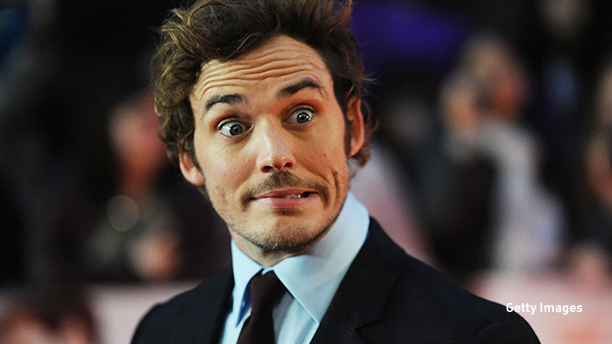 English actor Sam Claflin is known for fighting off foes in action flicks like The Hunger Games: Catching Fire and Snow White and the Huntsman. This time around, he finds himself tackling dating questions from RadioTimes.
Claflin joins his Love, Rosie co-star Lily Collins (The Mortal Incidents) in a sit-down to discuss the film.
Or so they thought.
The RadioTimes interviewer explains there will be a bit of detour, saying, "This film is all about romance and love. We thought we'd ask your opinions on a few things."
Claflin seems a little uncomfortable with the idea, grumbling, "Oh God."
The questions covers topics like, "Should the guy always ask the girl out?" "Who should pay on the first date?" "Should you Google your date before you meet them?" and "What's your best chat up line?"
You can check out the actors' answers in the video here.
Claflin and Collins star in Love, Rosie, as childhood friends Alex and Rosie, who grow up to be besties. Of course, as it happens, one is secretly in love with the other. The film follows the two as they wade through the dating pool, but somehow keep missing each other.
The below trailer will speed you up on what to expect:
The film premiered in the U.S. at the Philadelphia Film Festival on October 17, hitting theaters in 2015. The U.K. release is on October 22.
Were the dating tips any help? 
See More:
'White Heat' Star Sam Claflin Cast in 'Hunger Games' Sequel
Watch: It's a 'Snow White' Trailer-Off!
Why Are All Of Snow White's Dwarves British?
Read More
Filed Under: