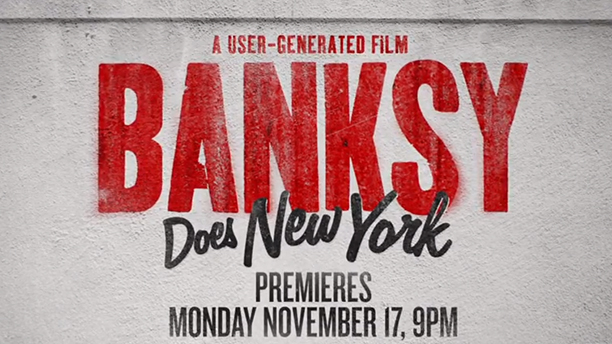 The infamous street artist Banksy took over NYC last October, and filmmaker Chris Moukarbel (Me @ the Zoo and Sex) has chronicled his movements, with the help of fellow trackers' contributions, in the 75-minute documentary Banksy Does New York.
HBO Documentary Films has recently released the trailer for the "user generated" film, which features cute and cuddly stuffed toy animals, squeaking away, unknowingly in a truck on its way to a slaughterhouse.
You can watch the trailer below:
In the trailer we hear someone off camera exclaim, "We fouuuuuuund it (the truck). You have to follow it." While the trailer is short, it definitely piques our interest: what else did they find?
The month-long exhibit was announced on Banksy's website but the locations of the art pieces were not revealed in advance. If you were one of the lucky ones to stumble upon his spray art, before it became public knowledge, a phone number was provided at the site, which you could call to get more information. If you didn't see it in person, Banksy and his team made an announcement the following day at #BANKSYNY Instagram.
The exhibit included moving art like the animal truck above, spray art as seen here, and an interactive piece, setting up a stand in Central Park, selling original artwork for $60 to passersby, actually valued at up to $200,000.
The film will be pre-released on HBO GO on Friday, October 31. The film will air on HBO on Monday, November 17.
Have you seen a Banksy in New York?
See More:
Banksy Mural Goes Missing
Another Banksy Goes Missing
Banksy Auction Sale Canceled 


Read More
Filed Under: