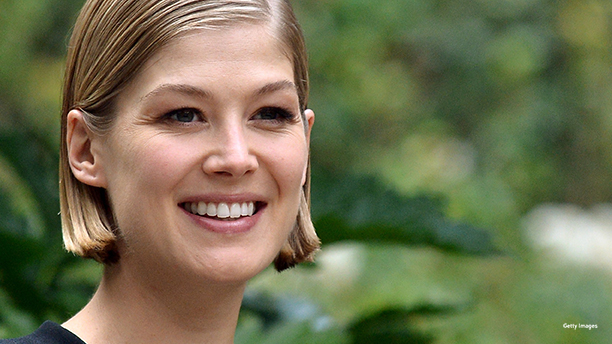 35-year-old British actress Rosamund Pike will be appearing in her biggest screen role to date as Amy Dunne in the mystery thriller Gone Girl when it opens in U.S. cinemas today (October 3).
To reveal details of her character could spoil this film, which is based on the bestseller of the same name. Suffice to say the role requires Pike, who's starring opposite Ben Affleck, to pull out all the stops as the wife who disappear under suspicious circumstances.
"It seems like something pretty violent went on—then the mystery unfolds and takes you on a journey you don't see coming," says Pike.
Gone Girl's cast also includes Neil Patrick Harris and Tyler Perry, and it's directed by David Fincher. For the actress, the novel written by Gillian Flynn, who also fashioned the screenplay, was a big attraction.
She says: "I think anyone who's read the book will see that this is an opportunity for an actress to kind of explore every facet of themselves. It involves having to dig pretty deep, pull on things that you may be uncomfortable pulling on, and it's a hell of a ride. That with the mind of David Fincher to guide you through that is a pretty intoxicating combination. "
Critics have been very impressed by Pike's performance. She's being mentioned as as a possible best actress Oscar contender. But to her, it's all about getting better.
"You are a work in progress, you're never going to be satisfied," she says. "In a way, you just see the bar getting higher and higher and you think, 'Well, keep jumping.'"
See more:
Love Rosamund Pike in 'Gone Girl'? Five Other Great Roles Available Online
WATCH: Rosamund Pike and Ben Affleck's "Meet-Cute" in 'Gone Girl'
WATCH: David Tennant, Rosamund Pike in 'What We Did On Our Holiday' Teaser
WATCH: Simon Pegg and Rosamund Pike Star in 'Hector and the Search for Happiness' Trailer
Read More
Filed Under: