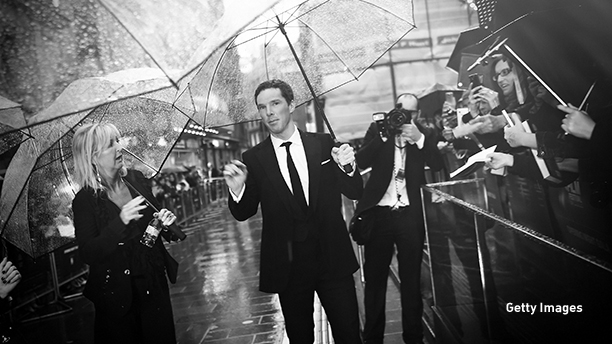 RadioTimes caught up with The Imitation Game star Benedict Cumberbatch to talk about the biopic's central character Alan Turing, British mathematician, being a hero for young people.
The interview, which took place at the film's premiere in London's Leicester Square, started off sensitive with Cumberbatch talking about people who don't quite fit in, are unsure of themselves, and this film could be a bit of guidance, but then … something caught his eye.
The British actor interrupted himself, squealing, when spotting his gang from Star Trek.
At first he seemed to be half joking around, but then he spotted director J.J. Abram's assistant, and he really did get excited, thinking out loud, "Does that mean J.J. is here? Is he here??"
But, without missing a beat, Cumberbatch turns back to the interviewer, continuing his description of Turing, saying, "He's not just a scientist. He should inspire children, and young people, to take everything they experience, into their life and work."
You can watch the entire interview here.
What do you think of Busy Benedict's moment? 
See More: 
#AskBenedict: The Best of Benedict Cumberbatch's Twitter Q&A
First Look at Benedict Cumberbatch as Richard III
A Sole Picture of Benedict Cumberbatch as Wet Mr. Darcy
Read More