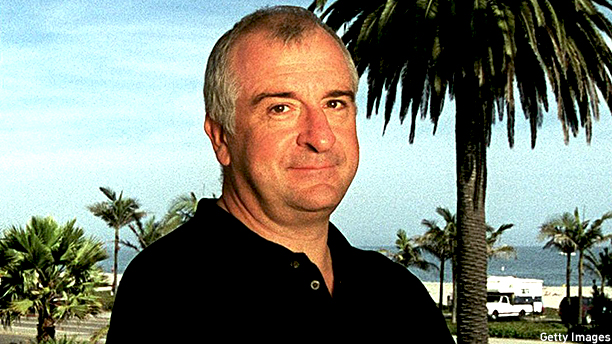 Now here's a test of ultimate fandom. If an artist, writer, performer or director is particular about which versions of their work should be made available to the public and which should not—and let's face it, they all are—is the real fan the person that says they don't want to see outtakes, early drafts and lost ideas, or the person that says they only want to see the finished projects, to experience the work of their favorite creative in its most complete form?
I only ask because James Thrift, half-brother of Douglas Adams, has revealed that there is a huge archive of Douglas's early drafts and unused writings, including ideas that were intended for the Hitchhiker's Guide to the Galaxy series and Dirk Gently's Holistic Detective Agency. The question is whether he would have wanted anyone to read any of it.
There's already been a collection of his unpublished ideas, entitled The Salmon of Doubt, which came out in 2002, a year after Douglas died, but that appears to be the tip of a considerable iceberg, as James told the Cheltenham Literature Festival (via Radio Times):
"There is an awful lot of stuff there… Some of [the material] is Dirk Gently, some of it is Hitchhiker's. My view personally is that there's an awful lot of it that led up to what became Hitchhiker's."
But he was also clear that this material was never intended for public consumption, and that Douglas would not have been happy to allow it to be made available to fans. Not least because he'd have been worried about keeping them as fans:
"The way Douglas wrote was that he started with ten pages and then worked his way down to one, and that was the one page that he was happy to go out there.
"All right, there's all this material there, but it's not material that he ever really wanted to see the light of day…
"Always in the back of your mind would be, Douglas is going to be kicking us."
Which just leaves the question for fans and prospective publishers alike, would you want to read that stuff if you knew it was against his express wishes?
See more:
Happy Towel Day: 25 Douglas Adams Quotes To Live By
Happy Towel Day: Six Life Lessons From Marvin The Paranoid Android
10 Sci-Fi Franchises Influenced by 'Doctor Who'
There Can Be No Sequels When An Author Dies
Read More
Filed Under: