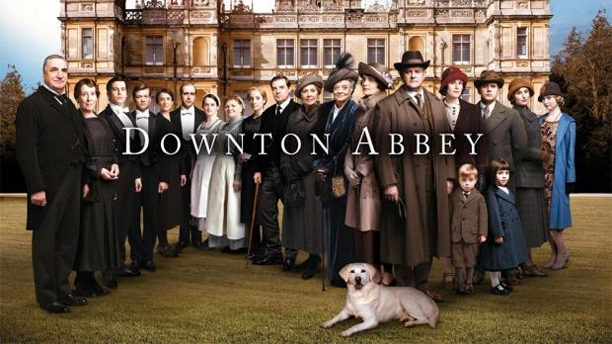 Look, we love Downton Abbey as much as anyone. And Elizabeth McGovern's (Lady Cora) musical activities are always worth a listen. However, the news that there's a festive Downton album on the way, containing a deep snowdrift of Christmas classics performed by Elizabeth and (possibly, the details aren't entirely clear) some of her cast-mates, is a little troubling.
It may be wonderful. It could be a defining Christmas classic fit to take a place alongside A Christmas Gift For You by Phil Spector and friends, or "All I Want For Christmas Is You" by Mariah Carey. But it could also take its place alongside these five dubious TV spin-offs in the audio hall of shame. The stakes are pretty high:
EastEnders
In the 1980s, EastEnders was so popular the show managed to release not just a handful of charting singles, but an entire album that featured none of them. It started with a version of the theme tune, by Simon May, to which lyrics had been added by Don Black. "Anyone Can Fall In Love" was sung by Anita Dobson (partner of Queen's Brian May), who played Angie Watts, the landlady of the pub the Queen Vic. It reached No. 4 in the British charts. Then there was a storyline in which some of the younger cast members formed a band, which resulted in two further singles being released. "Something Outa Nothing" by Letitia Dean and Paul Medford got to No. 12, but the big ballad by the fictitious band The Banned's ousted keyboard player Simon Wicks (played and sung by Nick Berry) got to No.1.
Then there was The EastEnders' Sing-Along Album, which was also released in 1986. This brought most of the rest of the cast in to sing medleys of classic London songs like "Maybe It's Because I'm A Londoner" and "Knees Up Mother Brown."
It reached No. 54 in the album charts.
Grange Hill
Grange Hill was an incredibly brave show. Made for children and broadcast at around 5 pm, its storylines dealt with common schoolyard problems like bullying and late homework, but also tackled stronger situations like racism, teen suicide and drug abuse. For the latter story, one of the kids at the school, Zammo McGuire, had become addicted to heroin, and his physical deterioration would have been alarming to watch even in more adult shows. At the point this storyline had reached a peak, the BBC released an anti-drugs single called "Just Say No," featuring the cast. The first thing you can see in the video is Lee McDonald (who played Zammo) working out, as if to reassure everyone he was OK really.
Loadsamoney
It was once relatively common for popular comedy characters to release a pop single and have a go at getting on Top of the Pops. The Goons did it. Monty Python did it. The Wombles dominated the early '70s with their spin-off records (which were actually pretty good). So when Harry Enfield found himself with a winning comedy persona in the late '80s—the capitalist plasterer Loadsamoney—his first port of call was the recording studio. The result was somewhere between hip hop and early house music, and has sadly not stood the test of time very well at all.
Casualty
Were it not for the ample evidence that it actually happened, this is the kind of thing that has taken on the quality of a strange dream. In 1998, an episode of the hospital drama Casualty (think ER but without Alex Kingston or the budget) featured a wedding between two of the show's leading characters. Naturally, this was interrupted by several emergencies, and in the end some of the other characters had to provide the music for their first dance. This was then released as a single and reached No. 5 in the charts. That is a fact. It's a thing that definitely happened. And yet no one is quite sure why. And needless to say, the love in the show proved to be far from everlasting.
Minder
If you've watched Little Britain and wondered what on earth the joke was with the character Dennis Waterman and his squeaky insistence that he would "write the theme tune and sing the theme tune," here's the context you may have missed. Dennis was the star of the hugely popular '80s comedy drama Minder, for which he did indeed write and sing the theme tune. Having released that song— called "I Could Be So Good For You"—as a hit single in 1983, his record company asked for a follow-up. So he roped in his co-star George Cole to perform an in-character Christmas song called "What Are We Gonna Get For 'Er Indoors?"
Note: 'Er Indoors was the nickname given to the wife of George Cole's character Arthur Daley. It's a long story. But all anyone really needs to know is that there was no need for any more Minder-related songs after this.
See more:
12 British Actors Who Got Started In Soaps
Life Outside The TARDIS: Alex Kingston
Brit Binge Watching: Five Medical TV Series You Can View Online
The Brit List: 10 Great British TV Theme Tunes You May Not Know
Read More
Filed Under: