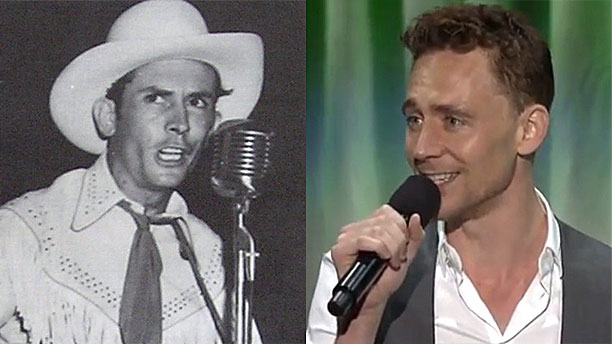 Stories of the extreme lengths actors go to in order to physically and mentally change themselves for a new role are often surprisingly harrowing. And it's not just at the extreme method end of things—where Robert De Niro or Christian Bale will bulk up for one part and then emaciate themselves for another. What if your job is to try and become someone your audience is already very familiar with. What if that person is the reason they're coming to see your movie, whether they are aware of your work or not?
These are the questions that must have been keeping Tom Hiddleston up nights over the past few weeks. Having been announced as the lead in the Hank Williams biopic I Saw The Light, and then have his suitability questioned by members of Williams' family—not least Hank Williams III, who would rather see Matthew McConaughey take the role, despite being 25 years older than Hank Senior when he died—he now has to try and convince a nation of country music fans that he IS Hank Williams.
And in order to do this, it seems he's spent the last month staying with the country star Rodney Crowell, taking hints and tips on how best to sing, move perform as Hank would have, and partaking in a gruelling exercise and diet regime to try and slim down to that skeletal frame.
Rodney has been explaining how it all went on his Facebook page, and it seems he and Tom got along famously:
He said: "The classically trained British actor arrived in Nashville on the fourth day of the month and the very next day climbed on a tour bus bound for Michigan and the Wheatland Music Festival.
"I asked Tom if he'd like to join us onstage and sing 'I'm So Lonesome I Could Cry,' a Hank Williams song I'd heard him practicing on the bus. I was surprised when he said yes and skillfully performed the tune before what must have been 1500 people.
"Later that night, with my band on the main stage, and with very little urging from me, he rendered a joyful version of 'Move It On Over.' Afterward, brimming with delight, he admitted, rather boyishly, that he'd never in his life performed with a band and had loved it."
And here is that performance:
He also described how Tom's working day would pan out:
"On a typical day in September, I watched him sit for a wardrobe fitting, read through four hours worth of key scenes with the director and leading lady, spend another two hours with a dialect coach, and then, in order to lose the weight needed to look Hank Williams gaunt on screen, run seven wicked miles over hilly Tennessee terrain. With those chores done, he'd then commit to six more hours of singing, over and over again, a very hard to master song like 'Lovesick Blues.'
"And then, when he finally unlocked the mystery of yodeling the blues, hillbilly style, and was treated to a playback of his performance responded by saying 'I can do it better, let me go again.' Then came a late dinner, wolfed down before giving in to a few hours sleep."
Best of all, after all that work. came Rodney's seal of approval: "After nearly a month spent collaborating with this gifted artist, I'm as respectful of the man's work ethic as I'm mystified by his transformational skills. Without a doubt, the filmmakers chose the right actor for the job."
Read the full post (and see Rodney and Tom's selfie) at Rodney's Facebook page.
See more:
Tom Hiddleston Takes The Ice Bucket Challenge
Chariots of Phwoar: Tom Hiddleston to Play Ben-Hur?
WATCH: Tom Hiddleston's Reaction to Pint-Sized Fans
Tom Hiddleston: "It's An Ambition Of Mine To Wear Jeans."
Read More
Filed Under: