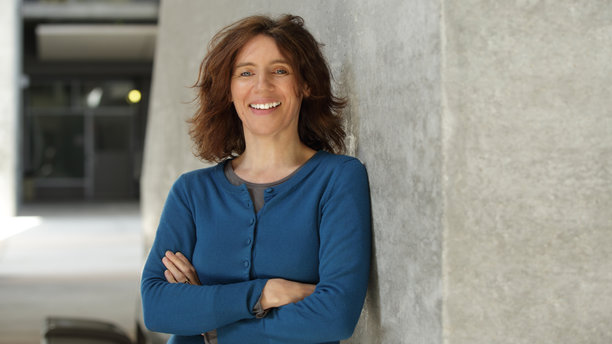 Not many people see Los Angeles as an epicenter for architecture. An epicenter for earthquakes, perhaps, but isn't it a city strangled by miles of endless freeway, supplied by roadside strip malls, and serviced by enormous parking lots?
British radio host, producer and author Frances Anderton couldn't disagree more. Talking by phone following her early morning pick-me-up – a cup of Earl Grey chased by a cup of coffee – the Santa Monica resident is already at the "air and window-free basement" studios at KCRW, one of the hipper and more influential NPR stations in Southern California.
Since 2002, she's been the host of DnA: Design and Architecture, a program that looks at the City of Angels' architecture and design issues, but she first visited L.A. in 1987 on assignment for Architectural Review and decided this was where she wanted to be.
"I was sent to do a special issue on emerging architects in L.A. like Frank Gehry, Thom Mayne and Eric Moss—all the people who are now establishment—but I'd always wanted to come to America anyway, even from childhood," she says, adding "though I never thought it would be L.A."
Raised in Bath, she remembers "coming of age during the punk movement," and the American tourists she met. "Many of them were from the U.S., and even though there were the clichés of them talking too loudly, wearing loud clothes, and photographing everything, I loved all that. Also, I was a waitress during my teen years in many a tea shop, and of course Americans tipped. That made a real impression when I was 14!"
More seriously, Anderton mentions how much David Hockney's paintings shaped her early perceptions of Los Angeles, mentioning his quote: "I knew California was a sunny place with good light. And it is. It's ten times brighter than in England."
It wasn't only the light, she claims, "but the feeling of physical openness of the spread-out city—though now it's getting denser and more urban&mdashthat gave a sense of possibility, and a sense of creative freedom." Deciding against moving to New York, Anderton moved to Los Angeles in 1991 as editor-in-chief at LA Architect. Though she feels L.A. "has lots of diamonds in the rough, even if it seems so much is concealed by what seems to be banal," the last 150 years or so has seen a number of significant architectural phases.
Explaining further, she mentions the late 19th/early 20th in Downtown, which is "completely intact" (meaning it still looks largely the same) and is home to lots of masonry buildings that are highly decorative and crafted, and then mentions the Craftsman bungalow era up to the 1930s, when the city was "one of the centers of experimentation in modernist residential design."
That includes the seemingly ever-present "McMansions," houses that all look the same, but Anderton says L.A. is also home to "delicate experiments in modernist living, from the Eames House through to Ray Eames and other 'Case Study' architects. Then there's what I call commercial Moderne buildings from the fifties and sixties, a friendly modernism, then obviously the Spanish-style tradition too, and the distinctive, colorful Googie roadside buildings, experimental structures from the late 1970s, and up to the landmarks like the Walt Disney Concert Hall—and more."
Los Angeles seems like a classic case of not judging a book by its cover, and Anderton agrees. "There's such a wealth of architecture here that it absolutely defies its reputation, though I do also understand that there are vast square miles of dross, and that some see it as acres of asphalt," she says.
Anderton cycles to work ("I love my bike rides!") and says the way she looks at how cities and architecture has drastically changed over the years. "I grew up around the tall, Georgian houses of Bath, and so spent a lot of time looking upwards. Then when I arrived here, Los Angeles' street-level architecture was especially fascinating—the city has a strict limit on building heights in many areas—and I was intrigued to be in a place where the trees were taller than the houses." These days she's looking downward too. "Right now many owners here are switching from lawn to xeriscaping (low-water design), and I'm watching these gardens evolve."
Her average day begins like anyone else's. "Firstly my husband and I have to get my 10-year-old daughter, Summer, ready and off to school, then it's sitting at the computer and dealing with dozen of emails," she sighs. "I spend a lot of the day at KCRW, in the studio interviewing or editing or writing. Sometimes I go off to interview or see things, but usually I'm in the basement with the other presenters and producers."
Radio has changed a lot in recent years too, and Anderton mentions that programs can now be archived online. "It used to be that radio was evanescent—it was there, it was on the air, and then it was gone," she says. "Now you can just playback stuff, and we do so much stuff online, especially for my show, which has a niche audience."
As for relaxing, Anderton says she prefers to be at home—a building that she says "happens to be" an early 1960s Frank Gehry (who also designed the Walt Disney Concert Hall among many others).
"Many people think of him as flamboyant, but this building was unshowy and well-planned, with gorgeous natural light," states Anderton. Each of the six apartments at the building has a deck or balcony, and there is a communal courtyard and hared outdoor staircase too. Anderton appreciates that "outside/inside experience," describing it "quintessentially Californian."
Inside Anderton's apartment, there's "a wall of detective stories—I love them. I've just read the latest Michael Connelly, then before that it was Ross MacDonald, but one of my favorites is a Chinese detective writer called Qiu Xiaolong. He has a character called Detective Chen, and he uses each case as a way to explore the last 50 years of Chinese history. It's completely fascinating, and I feel like I've learned more about China in these mysteries than I ever did anywhere else."
Outside the studio, you can find Anderton at the Farmers Market at Main Street and Ocean Park Blvd on a Sunday morning. As for the future, development plans for L.A. are going apace at the moment. There are new subway lines, the continuing renaissance of Downtown and the redevelopment of the space around Union Station (one of several landmarks designed by Lancashire-born John Parkinson, whom Anderton covered in PBS documentary Global LA)—so things seem set to stay busy.
December, she is curating an exhibition about resilient architecture in a time of rising seas at the Annenberg Space for Photography in Los Angeles, though she still makes time to visit her family back in the U.K. every year or so.
"I miss the NHS, the English countryside, gun control and school uniform," she notes. "Try having a daughter and sending her to a school that doesn't have school uniform. Every day is like another day at the dressing-up box."
The future may also see a family dog—though their building doesn't allow pets—and as for Brits venturing to L.A. now, Anderton has some practical advice: "Floss! I hate flossing, but it's extremely expensive to go to the dentist here. And don't get ill either!"
See more:
Interview with Fiona Bloom, Publicist Extraordinaire
Aviator Richard Chan Takes Flight as Hollywood Entrepreneur
A British Expat Speaks: Five Life Lessons I've Learned From Americans
Read More
Filed Under: