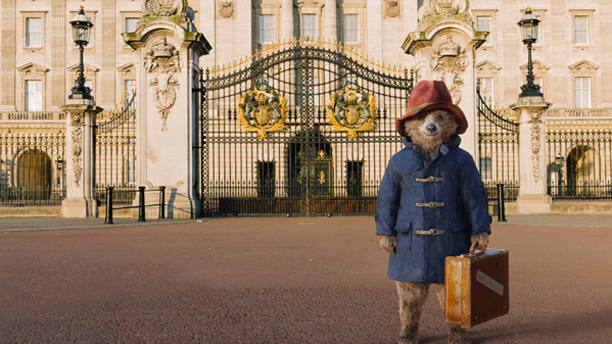 Let's get one thing clear before we start, the U.K. may be a small country by U.S. standards, but we don't all know one another and it's perfectly possible for two people to be incredibly well known in Britain and never interact in any way whatsoever.
That said, sometimes curious links emerge between globally famous British exports in a particularly delightful way, almost as if everyone lives in the same village, and these should be celebrated.
Take Paddington, the story of an accident-prone bear from darkest Peru that moves to London, written by Michael Bond and turned into a forthcoming movie starring Hugh Bonneville, Peter Capaldi and Ben Whishaw (as the voice of Paddington himself).
There's been a minor moment of disquiet from fans who grew up clutching a Paddington teddy bear, having noticed that the movie's hero is not wearing wellington boots. The Paddinton toys always wore a duffle coat, hat and wellies, and according to Hugh Bonneville, this has less to do with Michael Bond, or the successful BBC cartoon from the 1970s (neither of which made a feature out of bear galoshes), and everything to do with Jeremy Clarkson's parents.
He told Radio Times: "I can reveal that that's all down to Jeremy Clarkson's family.
"In the sketches in the original book, he's not wearing wellies at all and acquires the blue duffel coat. Jeremy Clarkson's family created the toy of the bear and it kept falling over and they said: 'Well, why don't we put it in wellington boots?'
"So that came along as a piece of merchandise."
And it's true: Shirley and Eddie Clarkson ran a small manufacturing business called Gabrielle Designs in the early '70s, and they made the first Paddington toy bear as Christmas presents for their children Joanna and Jeremy (who was 12 at the time). In order to stop the bear falling over, Shirley put him in children's wellingtons, and they stayed when the bear went into production, proving so popular that Gabrielle had to make their own special wellies with bear prints on the soles.
To this day you can still get Paddingtons in wellingtons, most notably from the kiosk in Paddington station, and it's all thanks to the Clarksons.
Paddington will be in U.S. cinemas on December 25.
See more: 
Is Paddington Bear The UK's Best Animated Character?
Colin Firth: "Paddington Simply Doesn't Have My Voice"
Phew! Ben Whishaw Takes Over from Colin Firth as Paddington Bear
5 Words Anglophiles Should Really Use More Often
Read More
Filed Under: