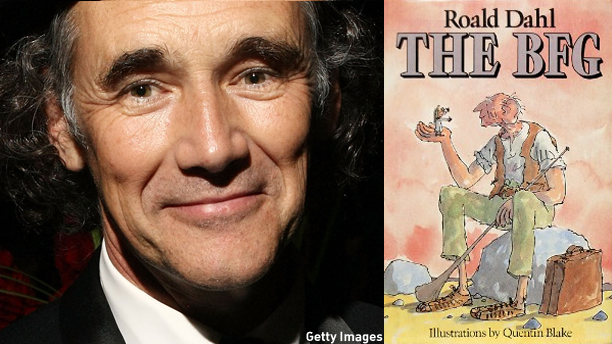 Let's not squiff-squiddle around, this is no time for gobblefunking.
There's a new, live-action adaptation of Roald Dahl's classic children's book The BFG, directed by Steven Speilberg, and he has cast one of Britain's mightiest thespian talents in the lead role.
Mark Rylance—winner of the Olivier Award twice and the Tony three times—will play the dream-catching Big Friendly Giant in a new DreamWorks production, which should be ready for a July 2016 release, just shy of 100 years since Roald Dahl's birth.
Steven told the Roald Dahl website that he's delighted to be working with Mark, with whom he is currently shooting a Cold War spy thriller: "Mark Rylance is a transformational actor. I am excited and thrilled that Mark will be making this journey with us to Giant Country. Everything about his career so far is about making the courageous choice and I'm honored he has chosen The BFG. as his next big screen performance."
The book tells the tale of a gentle giant, small for his kind, who befriends a little girl called Sophie (based on Roald's granddaughter Sophie Dahl) and devises a way to prevent his fellow creatures from eating "human beans." It was a particular favorite of Felicity Dahl, Roald's widow.
Mark will also be appearing in the BBC adaptation of Hilary Mantel's Tudor epic Wolf Hall, playing Thomas Cromwell, chief minister to Henry VIII.
See more:
Brit Binge Watching: Five Roald Dahl Adaptations Available Online
Dame Judi Dench and Dustin Hoffman to Star in Roald Dahl's 'Esio Trot' for BBC
10 British Children's Books That Every Older American Kid Should Read
10 British Children's Books That Every Young American Kid Should Read
Read More
Filed Under: