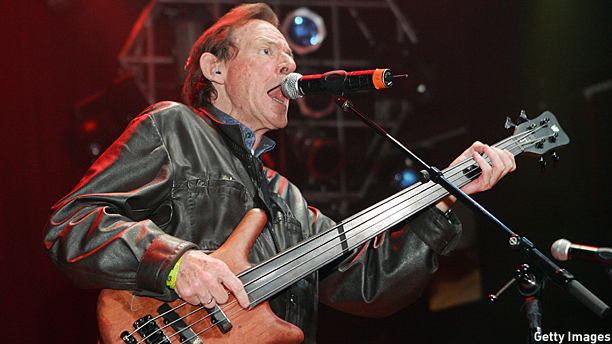 Jack Bruce, the bass player with the startling British rock trio Cream (among other things) passed away on Saturday (October 25) from liver failure. He was 71.
His was a remarkable career, beginning in wartime Glasgow and travelling with his parents across the U.S.A. and Canada, taking in the Royal Scottish Academy of Music (as a cellist) and then playing in beat groups across London, including John Mayall's Bluesbreakers and Manfred Mann.
But it was his collaboration with Eric Clapton and Ginger Baker in the cockily-named Cream (because they felt they were the best) that remains his most notable contribution to rock history. The band sold 35 million albums, directly influencing the likes of Jimi Hendrix (whose band the Experience were directly based on Cream's power trio lineup) and the development of what would become heavy metal. The band split in 1968, partly due to changing tastes in rock music, and partly because they felt they'd done everything with the power trio format and wanted to move on.
Eric Clapton was among the rock luminaries who paid tribute to Jack, in a short message via his Facebook page: "He was a great musician and composer, and a tremendous inspiration to me."
Here's a brief selection of Cream's best moments:
"White Room"
This song owes a debt to the descending bass part in the Lovin' Spoonful's "Summer In The City," but rather than ponder the grimy heat of a sunny metropolis, lyricist Pete Brown took the sun away, describing a place where "the shadows run from themselves" while Eric lights the sky with a firework display of sparkling guitar. Also, this is proof that Cream were blessed with two lead vocalists of equal power.
"Sunshine of your Love"
If you could build a statue to a riff, are there that many better candidates than this one? "Smoke on the Water," perhaps? "Whole Lotta Love"? Maybe. Possibly even "You Really Got Me," but that's about it. And just like Meghan Trainor, this is all about that bass. It's as dirty as a 2am drunken clinch behind a dumpster.
"Tales of Brave Ulysses"
A magnificently florid belch of words and squalling wah-wah guitar, ritten around another descending Lovin' Spoonful bass riff, and a poem given to Jack by the artist Martin Sharp, who wrote them to the melody of Leonard Cohen's song "Suzanne." Part of the song's charm is that you just can't get away with lyrics like this these days, no matter how well you sing 'em.
"Crossroads"
Because you can't pull together a greatest hits of Cream and leave off "Crossroads," people come at you with pitchforks and burning tar. But rather than listening exclusively for Eric's shattering guitar solos, spend a moment listening to pugnacious interplay between the bass and the drums. That's proper thundery Thor and slippery Loki stuff.
"We're Going Wrong"
A step away from blunt riffing and those blues changes, this is the song in which Jack woozily dissects the dog days of a relationship. It's full of foreboding, doesn't repeat itself too often and is clearly headed towards a dark and dramatic resolution after a violent showdown. Which is exactly what the dog days of a relationship feel like.
See more:
Are All the Greatest Guitar Riffs British?
10 Very British References in Beatles Songs
Six Iconic Instruments That Built British Rock
Five Innovative British Bass Players
Read More
Filed Under: