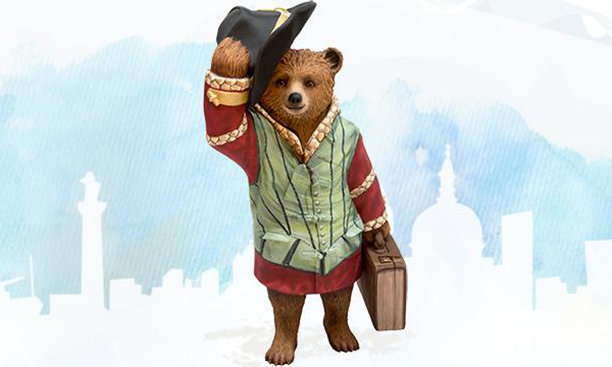 VisitLondon is teaming up with British celebrities like Michael Sheen (Masters of Sex), Benedict Cumberbatch (Sherlock), Peter Capaldi (Doctor Who), and Emma Watson (The Perks of Being a Wallflower), in an attempt to raise funds for the National Society for the Prevention of Cruelty for Children (NSPCC) with an artistic and fun venture.
The actors and entertainers contributing to the VisitLondon initiative, Paddington Trail, will design a Paddington Bear statue, and in some cases a professional artist will implement the design. Fifty bears total will be scattered throughout London, including Paddington Station of course, with clues to where to find the bears via multiple trails.
Sheen's Shakespearean-inspired design is the first to be unveiled, as seen above.
The Paddington Trail will kick off on November 4, running through December 30. The trails will land Londoners and visitors at some of Paddington Bear's favorite spots and major landmarks.
It's a great way for people to get out and explore London, just like Paddington did himself.
Peter Wanless, CEO of NSPCC, says in the below video, "The NSPCC is the Mr. and Mrs. Brown for children who are at risk of being neglected."
The below video explains the trail and the thought behind it, including tips from Paddington star Hugh Bonneville:
The statues will be auctioned off with all of the proceeds going to charitable causes including the NSPCC and Action Medical Research, for whom Paddington Bear is the official mascot.
Smaller versions of the statues will also be available at Selfridges department store for purchase.
Other celebs signed on to the project include David Beckham, Boris Johnson, Jonathan Ross, Guy Ritchie, and Paddington stars Bonneville, Nicole Kidman, and Ben Whishaw.
Get your sketchpads out guys, you only have one month before the start date.
Paddington hits U.S. theaters on December 25.
Will you be following the trails if you're in London?
Read More
Filed Under: