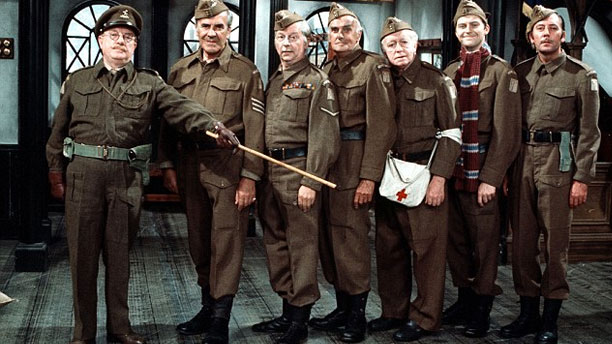 This is a very sensitive issue for British comedy fans. Dad's Army is widely considered to be one of the best sitcoms in British television history, and a movie remake, no matter how affectionately attempted, could stamp heavily upon cherished memories. However, the cast has been announced and if anyone can do it justice, this lot can… possibly.
Dad's Army tells the story of the Home Guard during World War II, men unfit for active service who were drafted to form a voluntary backline defence against a potential German invasion in coastal Walmington-on-Sea. This desperate situation is given comic energy by the writers—David Croft, who also wrote Are You Being Served? and 'Allo 'Allo, and Jimmy Perry—when they reversed the expected class hierarchy among the platoon.
So you had bumptious Captain Mainwaring (played by Arthur Lowe originally, and in the movie by Toby Jones), an officious middle-class bank manager with a chip on his shoulder who is delighted to outrank Sergeant Wilson (John Le Mesurier/Bill Nighy), a man of breeding and class.
Then there's Lance-Corporal Jones (Clive Dunn), a veteran soldier from before the First World War and the local butcher. He's mustard keen to give the Germans what for, but prone to confusion and a little slow in his reflexes. He'll be played by Tom Courtenay (Billy Liar).
They are joined by a platoon of poorly-drilled privates, including Godfrey (Arnold Ridley), a former medic and conscientious objector during WWI, his ailing bladder means he often needs to rush off at key moments of tension. He's played by Michael Gambon and you can make your own jokes about wands, thank you kindly.
Private Frazer (John Laurie) is a former Chief Petty Officer in the Royal Navy and has a very dour view of almost everything. He's played by Bill Paterson (Law & Order UK), and then there's Private Walker (James Beck), the local wide-boy who managed to avoid military service—allergic to corned beef, apparently—and serves the village with black market goods. He's played by Danny Mays, who you may remember from the Doctor Who episode "Night Terrors."
The last of the troupe, and in some ways the least, is Private Pike (Ian Lavender). Too young to serve with the rest of the Walmington men, he's encouraged to join the Home Guard by Sergeant Wilson, who lodges with Pike and his mother (and may well be his dad). Pike is a clerk by day, at Captain Mainwaring's bank, and is often the subject of his mother's overbearing attention, being too dim and compliant to rebel. She's the reason he wears a scarf with his uniform, much to Mainwaring's disgust. He'll be played by Blake Harrison of The Inbetweeners.
They will be joined by the likes of Sarah Lancashire, Alison Steadman and Catherine Zeta Jones, so it's not as if the producers haven't had a really good go at it. But, well, it's going to have to be superlatively good just to be accepted as half decent by a grudging British public.
Let's see what happens next, shall we?
See more:
10 TV Shows That Explain British Culture
What's The Best Way To Update A British Sitcom?
Five Reasons Why 'Twenty Twelve' is a Classic British Comedy
Bill Nighy and Toby Jones To Remake 'Dad's Army'
Read More
Filed Under: