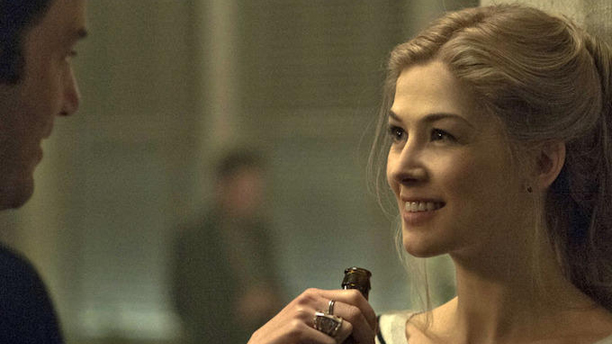 After its U.S. release, Gone Girl has been garnering heaps of Oscar buzz—namely for leading lady Rosamund Pike. Her role as missing woman Amy Dunne has been hailed as the performance of her career, propelling her to the forefront of the awards race. (Watch our interview with her.)
Though Gone Girl may be her biggest role to date, Pike has steadily been turning out note-worthy performances since her star-making turn as Bond girl Miranda Frost in Die Another Day. Here are five of her roles, available for you to stream online now:
1. The World's End
In the third of Edgar Wright's Cornetto series, Pike plays Sam, Oliver's (Martin Freeman) sister and part-time player in the epic pub crawl. The film marks the first time Pike worked with Simon Pegg, with whom she would reunite on Hector and the Search For Happiness. Perhaps this was also the birthing place of Pegg's twitter aptly named #roswatch, in which he catalogs his run-ins with Pike?
Watch The World's End on Amazon Instant.
2. Jack Reacher
Pike stars opposite Tom Cruise, who portrays the eponymous former U.S. Army Military Police Corps officer investigating a murder case with the help of a defense attorney counselor, Helen Rodin (Pike).
Watch Jack Reacher on Netflix.
3. Pride and Prejudice
Joe Wright's 2005 adaptation of the beloved Jane Austen classic sees Pike as Jane, the eldest Bennet daughter in addition to closest confidante and level-headed voice of reason for heroine Elizabeth Bennett (Keira Knightley).
Watch Pride and Prejudice on Amazon Instant.
4. Die Another Day
How many actresses can say that they debuted as a Bond Girl? In her first feature film, Pike plays modern-day femme fatale and MI6 agent Miranda Frost, who squares off against Halle Berry in an action-filled fight sequence.
Watch Die Another Day on Amazon Instant.
5. An Education
In 1960s London, a young schoolgirl (Carey Mulligan) is seduced by a charming, much older businessman (Peter Sarsgaard) and is catapulted into a lifestyle of lavishness—at a price. Pike plays her newfound friend and mentor in fashion and all things glamour.
Watch An Education on Amazon Instant.
See more:
Brit Binge Watching: If You Like the British Actors from 'Once Upon A Time'…
Brit Binge Watching: Five Tom Hardy Roles You Can View Online
Brit Binge Watching: Five Roald Dahl Adaptations Available Online
Read More
Filed Under: