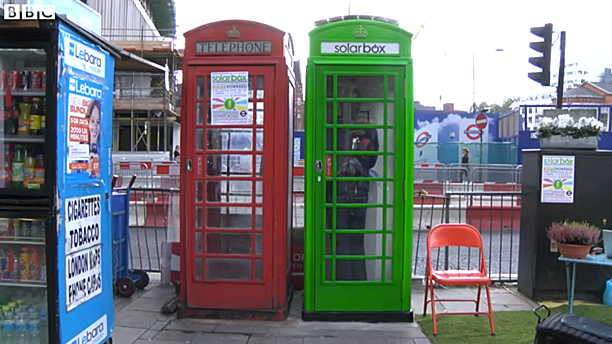 The classic red British phone box, as designed by Sir Giles Gilbert Scott and beloved of Anglophiles and Inspector Spacetime alike, has been in decline for over 30 years. Officially discontinued in favor of a steely glass box, not unlike those you'd see all over the world, the red phone box lives on more as an icon of Britain than it does as a vital communication aid.
And with the advent of mobile phone technology, this is a situation that seems unlikely to improve with time, unless something can be done to adapt the 11,000 functioning British phone boxes to the modern age.
And indeed something can. Two former geography students have come up with a way to make full use of the boxes as free recharging points for smartphones, using solar power. There are currently six solarboxes, painted a vivid green and fitted with a three-foot solar panel on the roof, that show advertising while you charge your phone. Five more are on their way in the new year.
Harold Craston and Kirsty Kenny, graduates of the London School of Economics, came up with the idea while thinking about publicly-accessible assets and urban spaces.
Harold told BBC News: "I lived next to a phone box in my second year at uni and walked past it every day. I thought, 'There are 8,000 of these lying unused in London and we must be able to find a use for them.'"
The box offers a 20% battery boost over 10 minutes, and has proved to be a lifesaver even for the people who invented it. Harold said: "On launch day, my phone ran out of battery and I genuinely had to use the box,"
There are more details are in this report from CNN, which has not been made with sophisticated Anglophiles in mind, it is fair to say:
Incidentally, did you know that the only reason red phone boxes are red is because the public telephone network was originally run by the Post Office, and they had already painted all their pillar boxes (post boxes) red. They were dark and subtle green when they were first installed in British high streets, but people kept walking into them.
See more:
Leeds Is Invaded By Curious Blue Phone Boxes
Iconic British Things No.10: The Phone Box
The Brit List: 15 Cool Uses for a Red Phone Booth
How The Double-Decker Bus Became Red, And Other Stories
Read More
Filed Under: