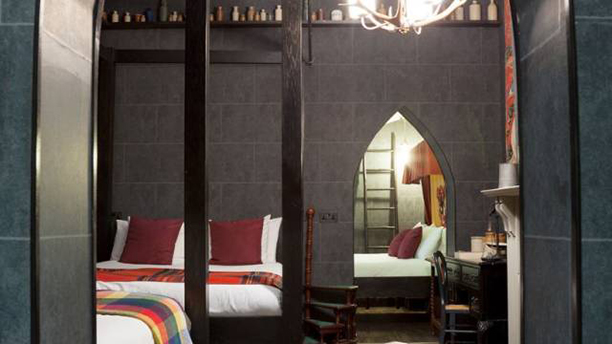 Sure, Florida's Universal Orlando theme park has the Wizarding World of Harry Potter, but can you sleep over?
In the 163-year-old London hotel the Georgian House, located a 35-39 St. George's Drive, guests can now book several rooms based on the Harry Potter films.
The experience is kicked off with music and candles as guests enter the Wizard Chambers, says hotel partner Serena von der Heyde, heard in this video.
The rooms get the Hogwarts treatment with four-post beds, arched mirrors, traveling trunks, cauldrons, and potion bottles. Surprisingly, there's no mention of wands. (It must be BYOW.)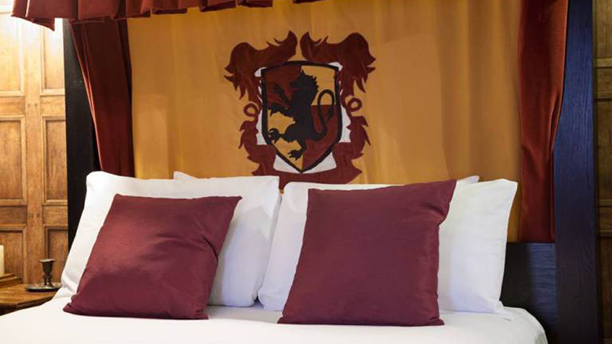 The package includes a full English breakfast, followed by a walking tour hitting some major spots seen in the films, landing guests at the Warner Brothers studios for a behind-the-scenes look at the Making of Harry Potter. The tour is rounded off with a return trip via the Harry Potter tour bus run by WB.
The rooms vary in size and price with rates beginning at £209 ($336) for a two-person stay, going up to £584 for a suite for an entire family (up to five people) per night.
You can take a virtual tour of the decked out hotel rooms in the video here.
Here's a peek at the hotel, located near Victoria Station.
The idea behind the rooms was originally geared toward families traveling with children, but apparently a lot of young couples have been signing up for the Harry Potter experience, according to the hotel.
Any plans to check in? 
See More:
Harry Potter's Classmates: Where Are They Now?
WATCH: UCLA Quidditch Players Compete in 'Mudbloods' Trailer
British/American Couple Create Magical 'Harry Potter' Wedding
Read More
Filed Under: