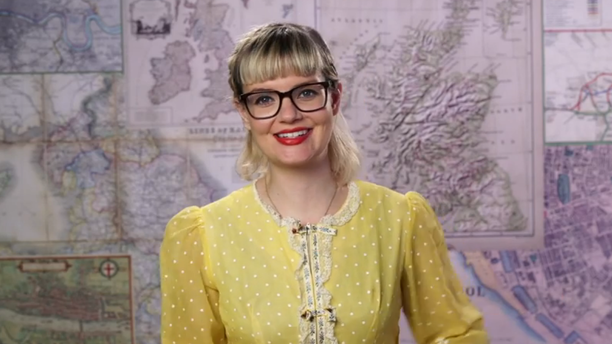 We're gearing up for Halloween (October 31) with the premiere of our latest Anglophenia episode: "Failed Literary Monster Mashups." Inspired by bestsellers Pride and Prejudice and Zombies and Sense and Sensibility and Sea Monsters, we decided to come up with some of our own combinations:
Should you feel inspired to try your own, without an intimate understanding of the classics of literature, here are synopses for the real masterpieces that inspired our mashups:
Mansfield Park (Jane Austen)
Fanny Price leaves her impoverished home life to live with her wealthy cousins at Mansfield Park. Fanny instantly feels out of place, especially when glamorous Londoners Mary and Henry Crawford move to town. Her only true friend at Mansfield, Edmund, falls for Mary, leaving Fanny more isolated than ever.
Beowulf (Unknown)
Written as a poem, and in Olde English, the great Scandinavian warrior Beowulf single-handedly fights three evil beings to keep the Danes safe: the infamous monster Grendel, a deadly dragon, and his own mother.
Rosencrantz and Guildenstern are Dead (Tom Stoppard)
The misadventures of Rosencrantz and Guildenstern, spies of Hamlet's corrupt uncle King Claudius, lead this story. Because the unreliable pair can't stop arguing philosophies, they're tricked by Hamlet and led to their deaths.
Brideshead Revisited (Evelyn Waugh)
Brideshead Revisited, loosely based on author Evelyn Waugh's time at Oxford University, is all about the glamour of the English aristocracy. Rich-kid Charles Ryder is befriended by a group of eccentric schoolboys and slowly begins ignoring his studies for friends, alcohol and his personal art.
Tess of the D'Urbervilles (Thomas Hardy)
Tess is a country girl living in a village a few hours from London. Her father, after learning he's the last descendent of the aristocratic D'Urberville family, decides to send Tess away to meet and make ties with the wealthy D'urbervilles. She is sexually assaulted by her D'urberville cousin Alec and the baby dies of illness. Years later, Tess' husband Angel cannot accept her un-chasteness and runs away to South America to try to forget about her. When he returns, he implicated in the murder of Alec, who Tess stabs in the chest. They run away and are eventually caught by the authorities at Stonehenge, of all places.
As You Like It (William Shakespeare)
As You Like It follows heroine Rosalind as she flees her corrupt uncle Duke Senior's court with her cousin Celia, and Touchstone, the court jester to the Forest of Arden. This is where her father, the exiled Duke, hides out with his crew of supporters. She shares many laughs along the way and even finds love.
Lady Windermere's Fan, A Play About a Good Woman (Oscar Wilde)
Lady Windermere expects her husband is having an affair, and calls him out for it. Instead of insisting upon his faithfulness, he invites Mrs. Erlynne (the "other woman") to his wife's birthday party. Lady Windermere promptly leaves her husband for another, but is followed by Mrs. Erylnne, who turns out to be Lady Windermere's estranged mother who had abandoned their family 20 years prior. Mrs. Erylnne abandons her reputation in an attempt to save her daughter's marriage. This is the play where we hear the line: "We are all in the gutter, but some of us are looking at the stars."
Our Mutual Friend (Charles Dickens)
Dickens' last novel is about the death of a rich misanthropic Londoner. He leaves his inheritance to his son, John Harmon, who can't get the money until he marries Bella, a girl he hasn't met. John goes missing in London, and the Boffin family inherits the money instead. Assumed to have drowned in the Thames, Harmon survived, and the Boffins give him his property upon his return to society. He still has to marry Bella, who's in love with someone else, and the two end up living in horrendous poverty.
Lady Chatterley's Lover (D.H. Lawrence)
Connie's a free spirit; Clifford is an English aristocrat who's paralyzed from the waist down from WWI injuries. Connie's inherently unhappy in her marriage and finds her husband needy. She starts hanging around the grounds' pheasant keeper, Oliver, and having a wild, passionate affair. Connie gets pregnant and around this time, realizes she can't stand the father of her child. And then Oliver's estranged wife tells Clifford what's been going on.
The Tenant of Wildfell Hall (Anne Brontë)
Helen Huntington is running away from her alcoholic husband Arthur, and arrives at the abandoned Wildfell Hall estate, to turn her life around. Here she meets Gilbert Markham, who befriends Helen's son, Little Arthur, and they soon fall in love. She confides in Gilbert about her past relationship with "Big" Arthur and ends up nursing him back to health when he's fallen from a horse.
Tale of Two Cities (Charles Dickens)
Lucie Manette receives news from businessperson Jarvis Lorry that her imprisoned father is still alive in France. She goes to France to retrieve him. Charles Darnay, a French aristocrat, decides to drop everything and move to England, where he's convicted of spying, but two lawyers (Mr. Stryer and associate Sydney Carton) save him from jail time. Lucie meets and falls in love with Darnay, but Carton's secretly in love with her as well. Darnay's servant sends him a letter asking for his help as he's become ensnared in the revolution. Darnay goes to France, and the revolutionaries catch and imprison him. Carton risks his own life to try and help Darnay get back to Lucie in one piece.
Jane Eyre (Charlotte Brontë)
Jane is an orphan sent to live with her aunt and uncle, the Reeds. Her uncle dies, and her cruel aunt sends her away to school. She does well at her studies and becomes governess to Adele at a house called Thornfield. Thornfield is a spooky place, and Jane awakes one night to find the housemaster, Edward Rochester, on fire in his bed. Having saved him, they soon fall in love. When Jane's aunt is near death, she reveals that she had been visited by Jane's uncle John Eyre years before, enquiring about his niece and offering adoption. She sent him away, saying Jane had died of typhoid. Rochester wants to marry Jane, so they get married, only for her to find out he's been hiding his mad estranged wife in his attic for 15 years. Jane leaves and discovers her uncle John left her his fortune. She returns to Thornfield and finds Rochester's estranged wife has burned the house down.
What's your favorite Failed Literary Monster Mashup?
See more:
Interview with Anglophenia's Siobhan Thompson, Part 1
Classic 'Doctor Who' For Beginners: The Monsters
WATCH: Britain's Scariest Mythical Creatures

Read More
Filed Under: