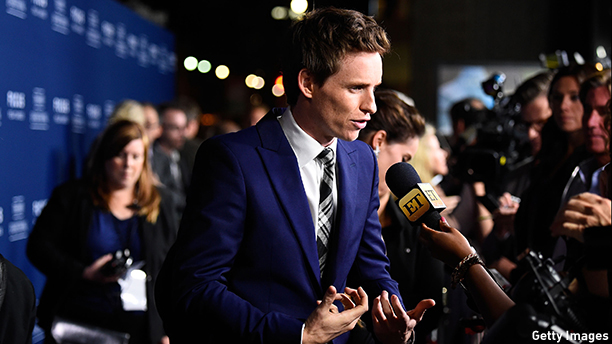 This bit of news might seem a little late in the game, but it's new to us.
Eddie Redmayne, who is getting praise left and right for his role as Stephen Hawking in The Theory of Everything, had a sit down with Variety.
He covered a handful of topics ranging from his early days in Hollywood, meeting Hawking in person, and his bromance with Benedict Cumberbatch, but the topic that seems to have left people spinning is his audition for E.L. James, author of 50 Shades of Grey.
Apparently Redmayne auditioned for the role, said "yes," but James shut it down. She didn't just veto the decision, but she did so in a very public way making her feelings known via Twitter, posting a comment that read, "Under no circumstances!"
Redmayne tells Variety he was a little taken aback, saying, "It was like, all right, all right! Am I that bad? I can put a whip in my hand. I can get all kinky, can't I? Apparently not."
It is a little bit like Sliding Doors, what if he did get the Christian Grey role: he may not have had the time to audition for role of Hawking, resulting in his outstanding performance.
The role ended up going to The Fall's Jamie Dornan, a good friend of Redmayne's. There doesn't appear to be any hard feelings with Redmayne rehashing his early days with Dornan in the Variety interview, talking about how the two passed time in between auditions with swimming and playing tennis at The Standard hotel in Hollywood, CA.
You can read the entire interview at Variety here.
Do you think Redmayne dodged a bullet?
See More:
WATCH: Eddie Redmayne Wins Praise Stephen Hawking Role
WATCH: British Stars on the Run for Cancer Campaign
WATCH: Eddie Redmayne on the Englishness of 'Les Miserables'
Read More
Filed Under: