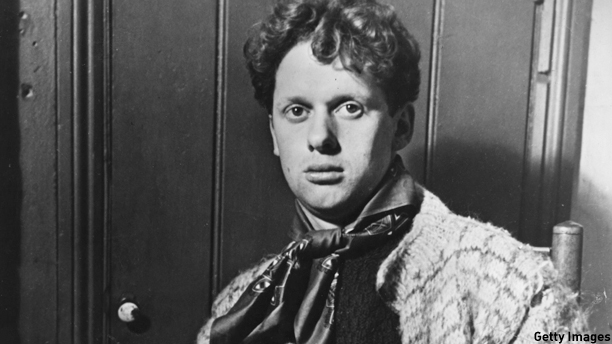 This week, the world celebrates the centenary of the birth of Dylan Thomas, a poet whose work spoke of universal things and local things, of noble emotions and minor pettiness, of harsh truths and longing sensuality. His is a voice—both on the page and out loud—that is strongly identified with Wales, not least because his most famous work, the "play for voices" Under Milk Wood, is set in the fictional, parochial Welsh village of Llareggub (it's "bugger all" backwards, a joke that never fades or becomes wearisome).
And tonight (October 29) at 8/7c on BBC AMERICA, Tom Hollander plays Thomas in the critically acclaimed BBC production A Poet In New York. So who better to start a collection of Thomas's poems than Tom himself?
Here he is reading a recently-unearthed drinking ditty:
And from the very recent, let's go back to a much older reading, from another of the most notable Welsh voices in popular culture, Richard Burton reading "The Force That Through the Green Fuse Drives the Flower":
And while we're on notable Welsh voices, have a selection reading "Do Not Go Gentle Into That Good Night," including Ioan Gruffudd, Alex Jones, Tom Ellis, Rhys Ifans, Charlotte Church, and Michael Sheen, whose new production of Under Milk Wood opened at the 92nd Street Y on Sunday (October 26) in New York:
Incidentally, you can hear the whole of Michael's production (until the end of November) on the BBC Radio iPlayer.
And if that group reading seems a bit fragmented and patchworky for such a direct and thoughtful poem, here's Anthony Hopkins reading the whole thing, sonorous tones and all:
Which brings us back to Burton, whose voice is the most closely associated with Thomas's words, having narrated the radio play, stage play and movie of Under Milk Wood and recorded several of his poems. Here he is reading "Elegy," an unsentimental poem, steeped in grief, that Thomas wrote for his father:
Something a little different now, but maintaining that Welsh theme. Here's HRH Prince Charles, Prince of Wales, reading "Fern Hill." The poem, named after the house in Carmarthenshire where Thomas would go and stay with his aunt and uncle, is part celebration of the glories of childhood and part melancholy reminiscence, from the viewpoint of an older and sadder person:
Two more alternative readings of the same poem here, but with a specifically Doctor Who slant. Here's the current Doctor Peter Capaldi reading "And Death Shall Have No Dominion" with that impossibly serious voice of his:
Or, if you prefer your poetry to be read by Time Lords who are a little madder and more evil, here's the Doctor's greatest Gallifreyan enemy the Master—in the shape of Sir Derek Jacobi—reading the same poem:
Something to have a good wallow in here, a special centenary celebration reading of Thomas's poems with Rob Brydon, Tom Hollander, Cerys Matthews and Jonathan Pryce. It includes "Fern Hill," "Do Not Go Gentle Into That Good Night," "In My Craft of Sullen Art" and "The Hunchback in the Park" as well as a special reading of "A Pearl of Great Price: The Love Letters of Dylan Thomas to Pearl Kazin."
And by way of a grand finale, here's the great man himself, Dylan Thomas reading "If I Were Tickled by the Rub of Love."
See more:
Poetry Day: 10 British Actors Read 10 British Poems
Which Poem Makes Tom Hiddleston Cry? This One…
The Poetry of 'Doctor Who'
The Best of Tom Hiddleston and the Love Book App
Read More
Filed Under: