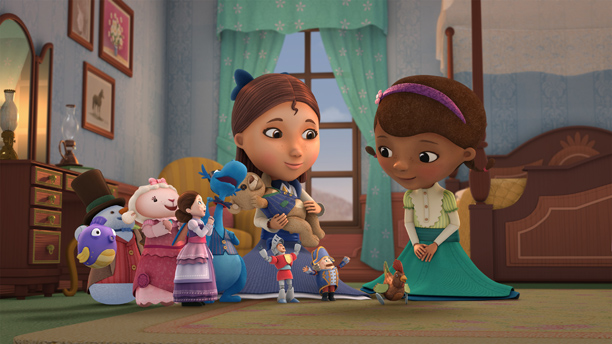 What do your favorite characters on Downton Abbey do in their downtime? Take over Disney, apparently.
In a collision of radically different worlds, a number of the Downton Abbey cast are set to guest-voice in a special extended episode of Disney Junior's Emmy-nominated Doc McStuffins. The series centers upon a young girl named Doc, who aspires to follow her mother's footsteps to become a doctor and acts out a clinic in her backyard with her stuffed animals and toys.
The episode, titled "Let the Nightingale Sing," will see Doc and her toys being magically transported to 19th century England – more familiar ground for the Downton stars – where they meet a pre-fame Florence Nightingale (voiced by Joanne Froggatt) and help her realize her dream job as a nurse.
As Florence Nightingale, Froggatt is joined by Lesley Nicol as a porcelain doll named Pip, Matt Milne as Bernard the teddy bear, Nigel Harman as a tin rooster aptly named Doodle Doo, and Robert Bathurst as Admiral Fiddlesticks – you guessed it – a toy admiral.
The special will hit television screens on November 2 on the Disney Channel in the U.S. and in December on Disney Junior in the U.K.
Perhaps this can tide us over until season five of Downton Abbey premieres in the U.S.?
See more:
'Downton Abbey's Elizabeth McGovern to Tour U.S. with British Band
George Clooney, Maggie Smith and a Kiss in 'Downton Abbey'
WATCH: The Question That Made Dan Stevens Crack Up on Live TV
Read More
Filed Under: