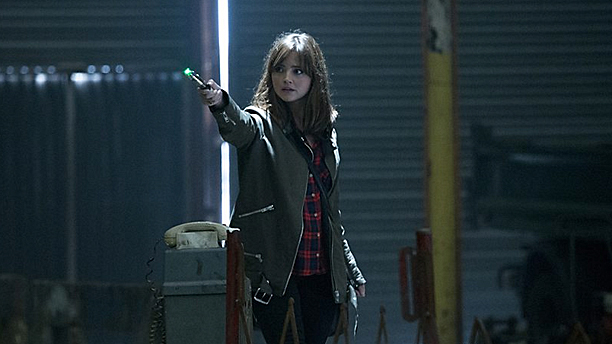 Having seen off the Foretold with a salute, this week our time-traveling twosome have to do battle not just with creatures from a thinner dimension, but living street art. It is almost as if Banksy is trying to take over the world, one concrete wall at a time, and to make matters more complicated for the Doctor and Clara, their roles are becoming confused:
Here's the synopsis:
"Separated from the Doctor, Clara discovers a new menace from another dimension.

But how do you hide when even the walls are no protection? With people to save and the Doctor trapped, Clara comes up against an enemy that exists beyond human perception."
And here's the Next Time trailer:
And if you're still curious to find out more, the Doctor Who site has a gallery of clues, in photo form, like this one:
Elsewhere in space and time this week, the Doctor made a trip on the Orient Express, meeting a mummy called the Foretold, an engineer called Perkins, and a manipulative computer named Gus.
Here's our recap of the whole affair, and the Doctor Who Extra, which takes you backstage:
• Some questions were left unanswered, of course, such as Gus's real identity and purpose. Radio Times has some theories on the matter.
• And there's a delightful gallery of images here.
• And then there was the cameo from Foxes.
Here's how it all went from her perspective:
• She also told Inside TV that the TARDIS tour was quite the dream come true:
To be in the TARDIS was one of those moments where you're like, "This is a dream. Am I going to wake up?"  I couldn't believe the buttons all actually worked and all the little things in the TARDIS actually have a purpose. It's quite mind-blowing. I just think they must have the best time. What a great place to work! I just resorted to being a child again. There's just lots of buttons to press! I was being quite geeky.
• She tweeted this picture:
Hanging out in the Tardis! I'm on @bbcdoctorwho tonight believe it or not. Tune in to @BBCOne at 8.35pm pic.twitter.com/DZS0KaReq1

— Foxes (@iamfoxes) October 11, 2014
• And revealed a surprise moment with Peter Capaldi:
When I met him I was like, "I'm such a big fan, it's an honor to meet you." And then he was like, "I'm a big fan, actually, of you. I've got your album." I was like, "Say what?" You don't know who I am! You're lying!"
• And before we disembark from the Orient Express, just time for one last toast:
• New photos have been released from the Doctor Who Experience, starring Peter Capaldi.
• Karen Gillan stopped by Jimmy Kimmel Live and told us all about getting into her Selfie character: 
http://www.youtube.com/watch?v=DeGUwRLpfhY
• Samuel Anderson joins his History Boys buddies James Corden and Dominic Cooper in the film adaptation of Alan Bennett's West End play The Lady in the Van.
• Arthur Darvill is set to make his National Theatre debut as Long John Silver in Treasure Island.
• Arthur also made an appearance at New York Comic Con and clarified that although his favorite Doctor is still Matt Smith, Peter Capaldi comes a close second.
• He and Alex Kingston also reunited and recorded special shout-outs to the Internet:
Hello from Arthur Darvill at @newyorkcomiccon who plays #RoryWilliams on #DoctorWho!
A special message from Alex Kingston who plays #RiverSong on #DoctorWho! View on Instagram
• And posed for a few photo ops:
#DoctorWho Tumblr is at @NY_Comic_Con, and we said hello to @RattyBurvil & Alex Kingston! #RoryWilliams #RiverSong pic.twitter.com/UwVNrB4xYU

— Doctor Who on BBCA (@DoctorWho_BBCA) October 11, 2014
@DoctorWho_BBCA forgive the kool-aid grin but I was ecstatic. #NYCC @NY_Comic_Con pic.twitter.com/VeZfrAPCXN

— Alison (@allyot128) October 11, 2014
• The Doctor himself drew a Dalek for some lucky fans:
And that's what you call an autograph !!!!!! pic.twitter.com/0NabhtSQUq — Mother India (@Official_MIndia) October 9, 2014
• And if you're wondering where all the Doctor Who cosplayers are, Mashable can help.
• The Twelfth Doctor comic from Titan Comics is on the way, written by Robbie Morrison and drawn by Dave Taylor. It's a five-issue run in which a newly-regenerated Twelve takes Clara on a trip through an alien jungle in her best dress. Here's a trailer:
• And finally, a glorious musical number to round things off with a swing. Here's the full version of Queen's "Don't Stop Me Now," as sung by Foxes on the Orient Express, and containing a few teasers about the rest of the season:
TTFN!
Read More
Filed Under: