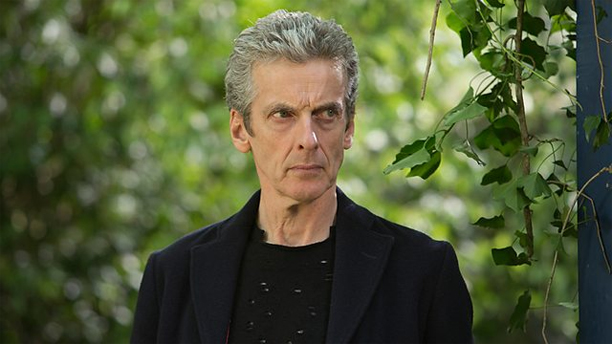 After seeing off invaders from a flatter dimension and having to rescue the TARDIS by dragging it off a rail-track with his fingers, this week, the Doctor arrives in the middle of a jungle. Except that jungle is also central London.
That's the central thrust of this week's Doctor Who story "In the Forest of the Night" which also features a young girl in a red hooded coat (one that would be suitable for riding in) and a wolf that looks both big and bad.
In the Forest of the Night has been written by Frank Cottrel Boyce, the title taken from William Blake's poem "The Tyger" (which may also have influenced the title of the BBC Children's program In the Night Garden).
Here's the official synopsis:
"One morning, in every city and town in the world, the human race wakes up to face the most surprising invasion yet.

Everywhere, in every land, a forest has grown overnight and taken back the Earth. It doesn't take the Doctor long to discover that the final days of humanity have arrived…"
Here's the Next Time trailer:
And a tiger… sorry, tygerish teaser:
Should you wish to see more, check out this gallery.
But these are thrills to savor later this week. The last week in time and space was all about those TARDIS-sapping monsters from the paper-thin dimension, the Boneless.
• Here's our recap of "Flatline," and a quiz to make sure you were properly paying attention.
• Let's take a trip backstage with Doctor Who Extra:
• Radio Times also has a quiz.
• And there are galleries aplenty. Shots from the set, production artwork, and stills of the best bits.
• Radio Times' resident artist Stuart Manning created this poster:
• Jamie Mathieson, who wrote both "Mummy On the Orient Express" and "Flatline," and took to his twitter account for a Q&A, telling us all about what was scripted and what wasn't:
@Esterath Exactly as that. The rest is all Capaldi.

— Jamie Mathieson (@Jamti) October 19, 2014
• And revealed what we have to look forward to:
@MatthewVlossak Yes. I have read every script of the season. I read the two parter finale on my phone sitting on a beach on hols. It rocks.

— Jamie Mathieson (@Jamti) October 19, 2014
• Speaking of Missy…
• The Doctor and the Dalek launches tomorrow (October 22). It's a free online game that aims to teach children the basics (no pun intended) of computer code.
• Matthew Sweet investigates the creation of the Daleks:
• Former Doctor Who costume designer June Hudson explains how she almost played Mrs. Pitt, the first of the passengers to die in "Mummy on the Orient Express."
• Peter Capaldi and Jenna Coleman are both up for a National Television Award – have your say on who takes home the trophy.
• Jenna showed her support for World Food Day:
It's world food day. #watchhungerstop 100 more meals personally donated by @michaelkors #Selfie #UN #WFP building a world with zero hunger. Change.
• Billie Piper put in her two cents on the new Doctor in town: "I love Peter Capaldi [in Doctor Who], I think he's perfect. If he'd been my Doctor that would have been brilliant."
And she's just as keen on Jenna Coleman too: "I really like her as well – we know each other socially and she's lovely – and I think her and Peter together is kind of perfect."
• But she may have some disappointing news regarding her recurring guest spots as fan favorite Rose Tyler: "I think at some point I have to put the lid on it. I've been back, like, four times…"
• Radio Times quizzes you on your knowledge of the finest lines of Twelfth Doctor and Sherlock.
• Rebecca Front, Peter Capaldi's co-star in The Thick of It, recalls sending him a "sweary text" upon finding out that he would be taking over as the new Time Lord. His response? "Please, we're not swearing anymore."
• Karen Gillan had a moment with David Harewood, who, if you'll recall, played Joshua Naismith in "The End of Time."
Me and @DavidHarewood… I mean Terrence Trent D'arby… I mean @DavidHarewood pic.twitter.com/2KSAzL8Uys — Karen Gillan (@KarenGillan2) October 16, 2014
Metro has a roundup of all the great actors who have appeared in Doctor Who in voice alone: from Imelda Staunton to Sir Ian McKellen.
• And finally, huge congratulations are due to John Barrowman, who received his MBE at Buckingham Palace. And tweeted about the whole thing:
John Scot Barrowman MBE. And family:) jb http://t.co/TOJ81JMJkq — John Barrowman News (@Team_Barrowman) October 14, 2014
Aw. TTFN!
Read More
Filed Under: