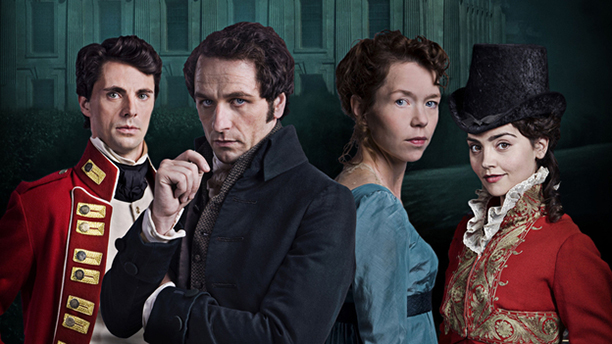 The Brit-filled cast of BBC's miniseries Death Comes to Pemberley was announced back in December 2013, but a U.S. airdate was still up in the air.
Finally, the follow-up to Jane Austen's Pride and Prejudice, based on P.D. James's 2011 novel, will premiere this Sunday (October 26) on PBS at 9/8c (check your local listings for varying times). The series is split up into two episodes, with the second airing on Sunday, November 2.
Welsh actor Matthew Rhys (The Americans) takes on the role of Mr. Fitzwilliam Darcy in the made-for-TV adaptation. James's story picks up six years after Darcy married Elizabeth Bennet, played by Anna Maxwell Martin (Philomena).
PBS makes the declaration: "Jane Austen gave Darcy and Lizzy a happily ever after … P.D. James will take it away."
In the PBS clip, Doctor Who's Jenna Coleman takes on the role of Elizabeth's sister Lydia, who shows up to the Pemberley estate in hysterics. Her unexpected arrival is followed by a series of unexplained events.
You can watch the PBS trailer here.
The cast is rounded out with Matthew Goode (The Good Wife), Rebecca Front (Inspector Lewis, Humans) and Penelope Wilton (Downton Abbey).
PBS will be hosting a Twitter discussion during the show, on both October 26 and November 2, beginning at 9pm Eastern Time. If you'd like to take part in the chat, please use the hashtag #PemberleyPBS.
Are you going to watch the premiere? 
See More:
WATCH: Star-filled 'Death Comes to Pemberley' Trailer
'Call the Midwife' Recaps
'Downton Abbey' Recaps
Read More
Filed Under: