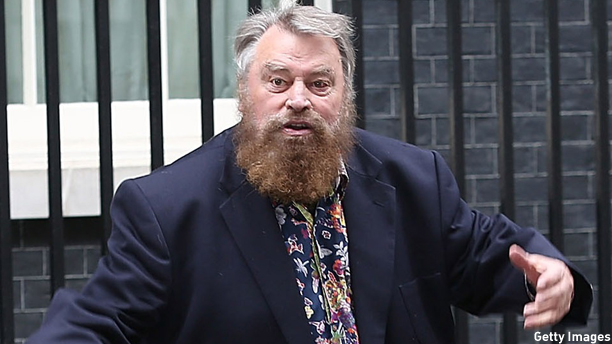 RadioTimes has a great story—told by a great storyteller—about a backstage accident that took place between Doctor Who's current Doctor, Peter Capaldi, and booming Brian Blessed, on the set of the BBC's 1997 adaptation of Henry Fielding's The History of Tom Jones.
It is best told through his quotes, and you should really read the whole thing, but here are the selected highlights:
He began, as one always should, dramatically: "I always shudder a little bit when I think of Peter Capaldi. Do you know why?"
Then, after explaining the scene, in which Peter's foppish character gets into an argument with Brian's bullish squire, he continued: "There's a scene in which he challenges me and hits me across the face with a glove. My character is meant to turn round, give him a left hook and flatten him.
"We thought we'd done the shot from all angles, but they said they'd do one more. This time I threw the punch, and – oh – I pulled it! For no reason Peter Capaldi had put his face forward, and I caught him in the face!
"He went flat on his back, his legs went up in the air, his arms went up, and I thought, 'He's in the death rattle!' I shouted, 'He's down! I think he's dying!'
"They quickly got an ambulance and took him to hospital, but they wouldn't attend him for a while because they thought he was in drag! He was still dressed as a fop with a beauty spot."
"After about three days he phoned from the hospital, 'Hello, it's Peter here. I know you feel embarrassed Brian, it was my fault.'
"So whenever someone mentions Peter Capaldi I'm bloody glad he's still alive!"
It's the way he tells 'em.
See more:
WATCH: 25 Celebs Who Have Appeared on 'Doctor Who'
The Brit List: Top Ten British Character Actors in Movies Today
WATCH: Peter Capaldi's Glorious Message to Glasgow Art Students
WATCH: Peter Capaldi on 'Doctor Who': Immediate Fan Reactions
Read More
Filed Under: