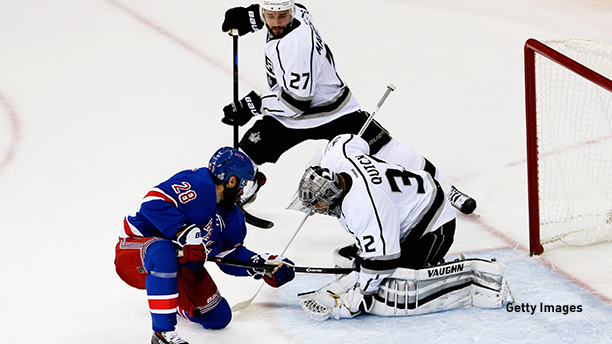 Small talk in America is a lot like small talk in Britain; it tends to center around sports and weather. So if you're a sports fan moving to the U.S., you may want to take at least a passing interest in one of America's favorite pastimes. Otherwise, all you've got is cloud forms. Here's our U.K.-U.S. conversion guide to show you which game best suits your tastes.
Cricket – Baseball
Watching professional baseball is similar to cricket in that you can show up late to the game, and you won't have missed much. The casual atmosphere inside a Major League Baseball stadium is comparable to that of a County Championship cricket ground because fans don't really need to pay much attention to what's going on down below; it's more important to chat with friends and sip on overpriced, watery beer. Another similarity is that some baseball games take place during weekday afternoons when you can expect to see three-quarter empty stadiums peppered with retirees and eager pupils. If stats are your thing, you're in the right place, as pro baseball is an indecipherable orgy of cryptic figures that even the most seasoned Major League fan struggles to comprehend.
Soccer – Ice Hockey
Broken down to a very basic level, ice hockey is the most similar sport to soccer played in the U.S. (well, apart from soccer, of course, but we'll come to that grey area in a moment). The objective of the game is beautiful in its simplicity: Get this object between these two posts to score one goal. Because of this, each time teams score in these games it actually means something, so the atmosphere inside an NHL arena evokes that of a Premier League stadium. Fans of both sports share two characteristics: a rowdy rambunctiousness and a penchant for barley pop. Of course, you could always follow Major League Soccer but, unfortunately, you may struggle to talk about it with an American.
Rugby – "American" Football
American football is by far the most popular sport in the U.S. If you want to be able to make friends in America, a basic knowledge of the game will help (in the same way that a familiarity with soccer does in the rest of the world). American football is comparable to rugby in that guys too horizontally challenged to play any other sports at school play it. Moreover, the ball is egg-shaped. The scoring in U.S. football is very similar to rugby union, albeit with a few subtle differences. A touchdown is worth six points, and the following kick an additional one point (a try in rugby, meanwhile, is good for five points and the following conversion, two). Drop goals—known as field goals in football—are worth three points in both. Anyway, whatever you do, don't mention the excessive padding: Americans don't like it when you imply their "footballers" are wimpy.
Netball – Basketball
I'm going to shoot you through the heart with an arrow of truth right now. If you're a British netballer thinking of moving to America you're going to find it practically impossible to find someone to play with. Rather than be a Billy no-mates, why not adapt your skill set and take up basketball? You'll have to learn how to dribble, but the good news is you've already got the shooting part down – you're so great, you don't even need a backboard. Atta girl!
Polo – Lacrosse
Both of these sports are played almost exclusively by the preppy and privileged. Why? The equipment is expensive, and it's not as if you can just go and play in the street ("Mummy! Have you seen my horsey?"). Both sports have longer histories than you might think. Persians first played polo as early as the 6th century BC. Lacrosse descends from 17th century games invented by Native Americans in what is now Canada. In these games, teams consisting of men from neighboring tribes (often up to 1,000 players per team) participated on fields up to three kilometers long. Today, there is a hybrid sport combining the two called polocrosse, which developed in Australia shortly before the outbreak of the Second World War.
Darts – Beer Pong
If your idea of exercise is going down the pub and gently swinging an arm while drinking and smoking, beer pong is a game for you. Similar to darts in Britain, there are beer pong leagues you can sign up for at watering holes in every city and state. In 2006, the first "professional" beer pong competition, or to give it its official title: The World Series of Beer Pong (I know, I know) takes place in Las Vegas. The annual World Series is on the Vegas Strip, and 2015's tournament will take place from January 1-5 at the Riviera Hotel. The winning team is set to pocket a cool $50,000 in prize money.
See more:
8 American Sports Idioms Brits Won't Understand
Football vs. 'Soccer': A Translation Guide for Brits and Americans
A British Soccer Fan on the Unique Appeal of the NFL
Are you a Brit living in America? If so, do you follow any U.S. sports? Tell us which in the comments below:
Read More
Filed Under: