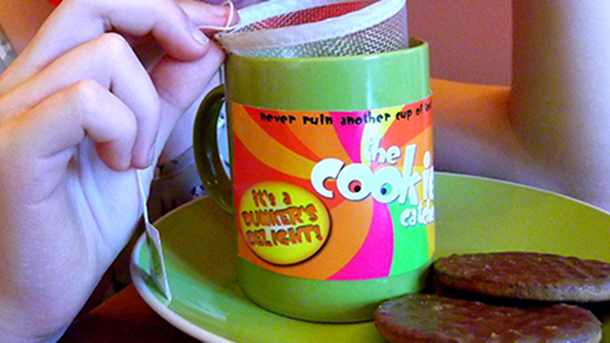 There has been an unusually large amount of biscuit and tea inventions of late. Well, two to be exact (that we know of), but that's a lot in a matter of weeks. It's all about supply and demand.
We've recently explored a color-coded mug, which determines the appropriate amount of milk in tea, to reach your desired taste. And, now, (drum roll please), the newest tea-friendly gadget makes sure there aren't any crumbly cookie leftovers in your hot drink.
British inventor Andrew Tinsley, from Watford, Hertfordshire, England, grew tiresome of finding floaty bits in his tea. He noticed his family was suffering from the same predicament, reports the UK Express.
Even if you dip your cookie super fast, there's really no way to avoid the conundrum. Until now, that is.
Tinsley has created a mesh pouch, with a string, designed for dunking, called The Cookie Catcher.
The Cookie Catcher sounds like a tea bag, but actually the mesh bag can hang out in your hot liquid, collecting the unwanted bits. It's kind of like a soft, malleable cup within a cup. You can remove the non-intrusive bag when you're done with your treat, which is reusable after a quick wash.
Here's a photo to help illustrate how The Cookie Catcher works: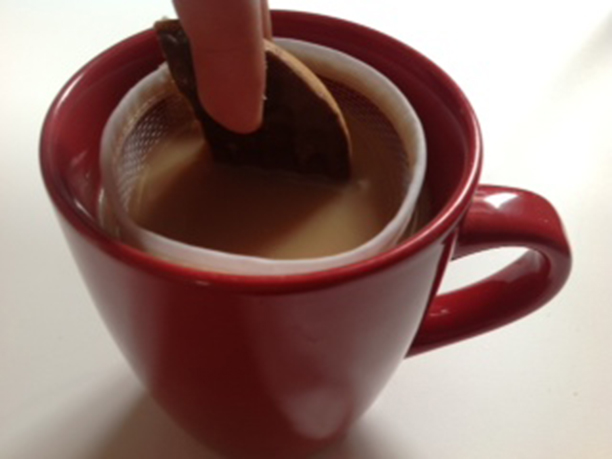 You can watch a video on how to use the cloth bag here.
The new gadget was on the market for only two weeks, and sold 600 units at £2 ($3.20) each. You can purchase the strainer at TheCookieCatcher.com.
Tinsley talked about his initial success, telling the UK Express, "So they're obviously striking a chord with the tea drinkers of Britain."
The name of the product uses the word "cookie" versus "biscuit," which is a little surprising with Tinsley being British and all (and the latter being more common in the U.K.), but possibly he wanted to universalize the packaging. Or, simply the alliteration was alluring.
Is this something you need in your house?
See More:
PHOTOS: Selection of Mugs with Biscuit Pocket
WATCH: British-Designed Cuppa Determines a Classic British Brew
Brit Scientists Invent a Chocolate Printer
Read More
Filed Under: