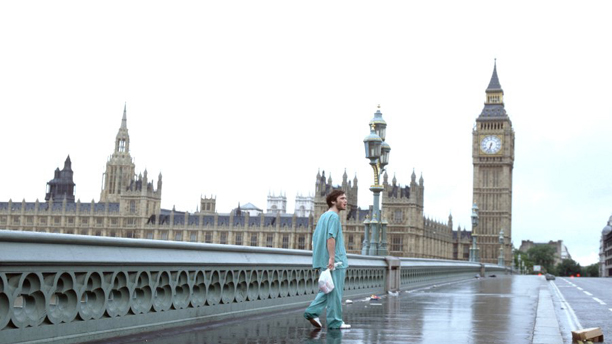 No matter what your plans are this Halloween weekend, chances are you'll need a few choice movies to go hand-in-hand with your trick-or-treat candy binge or to decompress with after a massive costume party. Planning to have a scary movie marathon? We definitely have you covered there.
Here are six of the best British horror flicks, available to stream online now:
1. 28 Days Later
The zombie film that reinvented zombie films, 28 Days Later is centered on a post-apocalyptic London after a virus wipes out the city. Cillian Murphy plays Jim, a bike messenger who wakes up from a coma in St. Thomas's Hospital and is indeed in for a rude awakening when he discovers the empty city and is attacked by the "Infected." He and his fellow survivors (Naomie Harris, Brendan Gleeson, Megan Burns, and Christopher Eccleston) must band together to fight off the uncontrollable zombie virus spread.
Watch 28 Days Later on Amazon Instant.
2. Don't Look Now
After their daughter dies in a tragic accidental drowning, John (Donald Sutherland) and Laura Baxter (Julie Christie) take a trip to Venice, but are confronted by a clairvoyant who claims that their daughter is trying to contact them to warn them of imminent danger. Renowned for its innovative, suspense-inducing editing style, Don't Look Now explores the psychology of grief within the world of the supernatural and the conventions of the classic gothic ghost story.
Watch Don't Look Now on Amazon Instant. 
3. The Awakening
Speaking of gothic ghost stories, The Awakening takes the creepy mood of the English moors to an all-boy's school in the 1920s. Rebecca Hall is Florence, an author in the 1920s specializing in supernatural hoaxes, who investigates sightings of the ghost of a child. Her investigation leads her into unexplained phenomena that call her mental stability into question. Rounded out with performances by Dominic West, Imelda Staunton, and Isaac Hempstead-Wright, the film's chilly, disturbing atmosphere is perfect for a Halloween viewing.
Watch The Awakening on Netflix. 
4. Eden Lake
This binge just wouldn't be complete with a classic couple-being-terrorized-on-vacation horror flick. Jenny (Kelly Reilly) and Steve (Michael Fassbender) are a couple escaping their everyday London lives to go on a weekend getaway in the idyllic, remote English countryside. Things take a turn for the worse, as they often do in films like these, when they get into a nasty confrontation with an unruly group of teenagers. Led by Brett (Skins' Jack O'Connell), the gang's disturbing antics only escalate.
Watch Eden Lake on Amazon Instant.
5. Shaun of the Dead
Of course, with the horror film genre comes the horror film spoof genre. Shaun of the Dead, a play on George A. Romero's Dawn of the Dead, stars Simon Pegg as a man attempting to get his life together while also dealing with an overnight zombie apocalypse. How's that for a handful? With a cast containing the likes of Nick Frost, Martin Freeman, and cameos by Coldplay members Chris Martin and Jonny Buckland, it's an all-around riot fest that has now cemented its place in cult classic fandom.
Watch Shaun of the Dead on Amazon Instant.
6. Horror of Dracula
The first of the Hammer Horror series, Horror of Dracula was originally titled Dracula, but was changed to avoid confusion with the 1931 Dracula film. This rendition of the Bram Stoker novel was a box office hit and sealed Hammer Studios's position as a leading producer of horror films, thereby paving the way for the rest of the series, which included eight more Dracula-centric movies.
Watch Horror of Dracula on Amazon Instant.
Which film will you watch first?
See more:
Brit Binge Watching: Five British Serial Killer Thrillers You Can View Online
Brit Binge Watching: Five Jack the Ripper Films You Can View Online
Brit Binge Watching: Five Detective Dramas You Can View Online
Read More
Filed Under: