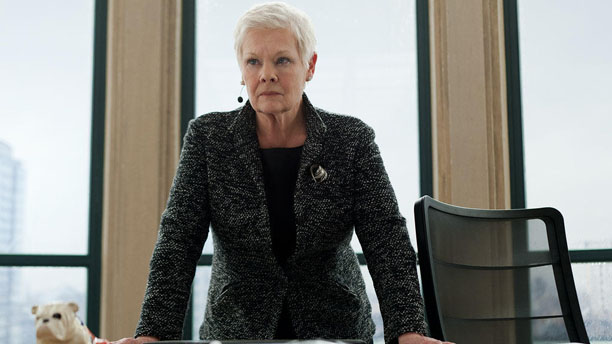 Dame Judi Dench is practically acting royalty, with an illustrious career that spans decades and more Academy Award nominations under her belt than you can count on one hand.
It's no wonder, then, that she is set to be fêted with the Albert R. Broccoli Britannia Award for Worldwide Contribution to Entertainment at the 2014 BAFTA Los Angeles Jaguar Britannia Awards. The broadcast of the ceremony will air this Sunday (November 2) at 9 pm ET on BBC America.
In the meantime, let's celebrate by taking a look at some of those stunning contributions with five of her roles, available to stream online or watch via Amazon Instant now:
1. Notes on a Scandal
Dame Judi goes head to head with Cate Blanchett in this adaptation of the novel of the same name by Zoë Heller. In the psychological thriller, cynical history teacher Barbara (Dench) discovers an illicit affair between her new colleague (Blanchett) and a 15-year-old student. What follows is a game of blackmail and revenge that wreaks irrevocable turmoil in both of their lives.
Watch Notes on a Scandal on Amazon Instant.
2. Shakespeare in Love
Who else but Dame Judi could win an Oscar for a role that only saw eight minutes of screentime? In this fictionalized interpretation of a young William Shakespeare's life, she takes on Queen Elizabeth's regality and gravitas so well that she beat out Lynn Redgrave and Kathy Bates, amongst others, for the Best Supporting Actress award in 1999 (presented to her by Robin Williams).
Watch Shakespeare in Love on Netflix. 
3. Skyfall
Skyfall marks Dame Judi's seventh time stepping into M's power suit and high heels, so it's really only fitting that she is this 2012 film's centerpiece. The film follows Daniel Craig's James Bond as he investigates an attack on MI6 that threatens to discredit and kill M as part of a revenge plot.
4. A Room With a View
This 1985 film adaptation of E.M.'s Forster's classic novel stars Helena Bonham-Carter as Lucy Honeychurch, a young woman who falls for the free-spirited George Emerson (Julian Sands) while on holiday in Italy with her older cousin/chaperone (Maggie Smith). If the cast listing isn't impressive enough for you already, throw in Dame Judi as a gossipy novelist and Daniel Day-Lewis as Lucy's fiancé, and you've got something of a star-studded British ensemble.
Watch A Room With a View on Hulu. 
5. Philomena
Perhaps one of the most touching films to sweep awards season in 2013, Philomena is based on the true story of an Irish woman (Dench) who, along with the help of a journalist (Steve Coogan), searches for the son she was forced to give up 50 years earlier. The film earned four Oscar nominations, including Dame Judi's seventh nod thus far.
Watch Philomena on Amazon Instant.
Will you be tuning in to see her take home the Britannia award on November 2?
See more:
Brit Binge Watching: Five Tom Hiddleston Roles Available Online
Brit Binge Watching: Five Hugh Grant Romantic Comedies Available Online
Love Rosamund Pike in 'Gone Girl'? Five Other Great Roles Available Online
Read More
Filed Under: