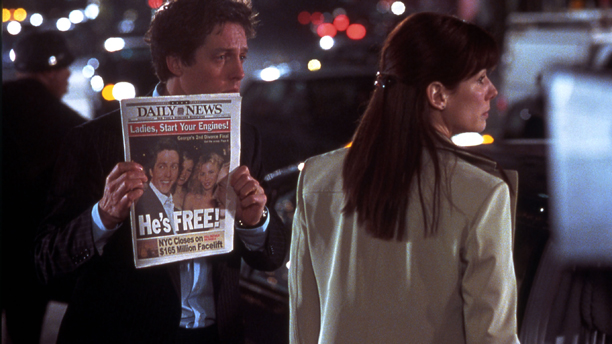 Hugh Grant's new rom-com The Rewrite has already hit U.K. theaters, and people are digging it. He stars as a once successful Hollywood screenwriter, who has run out of ideas. Grant claims he's "too old" to star in a romantic comedy, but really, is anyone too old for love? The British actor swings by The Graham Norton Show, airing Saturday (October 11) at 11/10c, to gab about the film, and some of his earlier work. We're still waiting for the film to come out in the U.S., so in the meantime, let's binge on some of Grant's earlier romantic comedies available online:
1. Two Weeks Notice
Grant takes on the role of a billionaire playboy who really doesn't have a care in the world. That is, until he meets an environmental lawyer (Sandra Bullock), who he wants on his team. She accepts the terms with the understanding that he'll help save a local community center.
Watch Two Weeks Notice on Amazon Instant.
2. Mickey Blue Eyes
Grant plays an Englishman in New York working as an auctioneer. He falls in love with a young woman (Jeanne Tripplehorn), but soon learns her father (James Caan) is a "wise guy."
Watch Mickey Blue Eyes on Amazon Instant.
3. Notting Hill
This is your typical boy-meets-girl story except the boy (Grant) works in a London bookshop and the girl (Julia Roberts) is a famous American actress.
Watch Notting Hill on Amazon Instant.
4. Four Weddings and a Funeral
Weddings and funerals bring people together. Londoner Charles (Grant) has a tight circle of friends, who he catches up with at mutual friends' weddings, but he keeps running into an American by the name of Charlie (Andie MacDowell), who he finds himself intrigued by.
Watch Four Weddings and a Funeral Amazon Instant.
5. Bridget Jones's Diary
Bridget Jones (Renée Zellweger) is neurotic and unlucky in love, but who blames her when her boss Daniel Cleaver (Grant) keeps messing her about in the romance department. It's confusing! You can check out Zellweger and Grant reunite in the Bridget Jones's Diary sequel on Netflix or Amazon Instant.
Watch Bridget Jones's Diary on Amazon Instant.
Which film are you going to binge on first?

Read More
Filed Under: