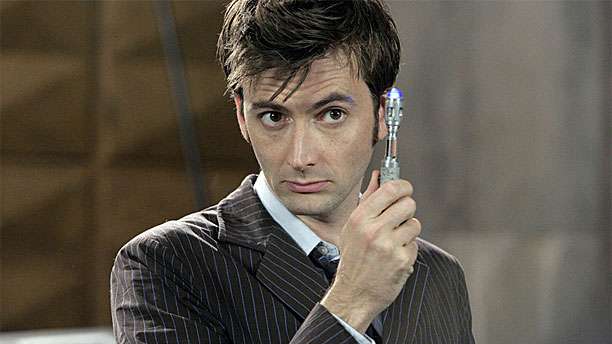 Gracepoint, the American remake of BBC America's Broadchurch, has finally made its way to the states, premiering on FOX (October 2). We get to see David Tennant tackle the same character (the lead detective investigating the murder of a young child) in two different countries, with two different accents, and from two different, yet similar, approaches. It's interesting to watch Tennant take on an American slant in Gracepoint, but here are some more familiar roles in all his British/Scottishness:
1. Doctor Who
You want to binge on Doctor Who, but you're not sure where to find all of the episodes? Oh, sit tight … we have a Complete Guide to Streaming Doctor Who in the U.S. The guide is sorted by online outlet, seasons, and even Doctor. Tennant, the Tenth Doctor, starred in seasons two, three and four, and, of course, the specials, which are all available on Netflix and Amazon Prime Instant Video. If that's not enough, Tennant makes a guest appearance as the Doctor in episodes five and six of The Sarah Jane Adventures' "The Wedding of Sarah" available on Hulu Plus and Amazon Instant.
Watch Doctor Who on Netflix, Amazon Prime Instant and Hulu.
2. Casanova
Steven Moffat, Doctor Who show runner, was at the 2014 Hay Festival, and relayed a story about the Scottish actor, saying, "They said of casting David Tennant as Casanova, 'Damn, you should have cast someone sexier'." It's not clear who "they" are, but they were proven wrong by Tennant's draw in both Casanova and DW. Tennant charms his way into women's hearts in the BBC romantic miniseries written by Russell T Davies, who later oversaw Tennant's run as the Doctor.
Watch Casanova on Amazon.com Instant.
3. Politician's Husband
Tennant stars opposite Emily Watson in this 2013 BBC political miniseries. The two portray politicians who are married to each other, with Tennant's character stepping down from his role as Senior Cabinet Minister, and Watson's character filling the vacancy. Somebody has to bring home the bacon.
Watch Politician's Husband on Netflix.
4. Nativity 2: Danger in the Manger
Who knew the sleeper hit Nativity!, starring Martin Freeman and Marc Wootton, would be so delightful, that we'd get a sequel? Tennant joins Wootton in escorting a school group on a road trip to take part in a singing competition. Joanna Page, who smooched the Tenth Doctor in the 50th Anniversary Special, rounds out the cast as Tennant's wife.
Watch Nativity 2: Danger in the Manger on Netflix.
5. The Last September
You may not recognize Tennant at first; he's the playboy English soldier with the mustache trying to win the heart of Lois (Keeley Hawes), an Irish girl who has never known love. The story is set in 1920s Ireland, as the country is about to go to war.
Watch The Last September on Netflix.
Bonus: Broadchurch is available on Amazon Instant.
What are you going to watch first? 
See More:
Brit Binge Watching: If You Like the British Actors from 'Once Upon a Time'…
Brit Binge Watching: Five Roald Dahl Adaptations Available Online
Brit Binge Watching: 6 LGBTQ Pieces You Can Stream Online
Read More
Filed Under: