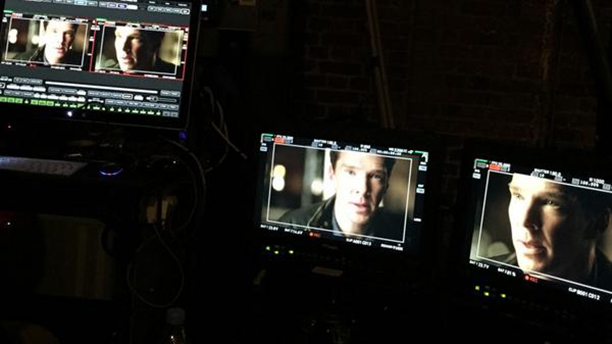 Stop the presses: a photo of Sherlock's Benedict Cumberbatch with a cryptic message has appeared on BBC One's Facebook and Twitter pages.
When first hearing this news, it seemed like a bystander spotted Cumberbatch filming, posted a snap on social media, and BBC stepped in to fill in the blanks.
Nope. That's not the case at all. Actually, BBC One posted a Busy Benedict update announcing, "Benedict Cumberbatch filming something special for BBC One. More details soon."
Here's a peek at the tweet:
Benedict Cumberbatch filming something special for @BBCOne. More details soon. pic.twitter.com/zBB8eiVwXc

— BBC One (@BBCOne) October 15, 2014
BBC controller Ben Stephenson addressed the mysterious update, but wasn't about to put all his cards on the table, saying, "He was great. Stay tuned."
The RadioTimes reports that they've confirmed it's not Doctor Who, and it's not a still from the forthcoming The Hollow Crown.
Whatever this something is that he's working on will appear on both BBC One and BBC Two.
We know what it's not, what do you think it is?
See More:
WATCH: Benedict Cumberbatch Has Fanboy Moment on Red Carpet
Why Fans Love Benedict Cumberbatch – Anglophenia Ep. 9
10 British Actors Trying Their Hands at Pop Music
Read More
Filed Under: