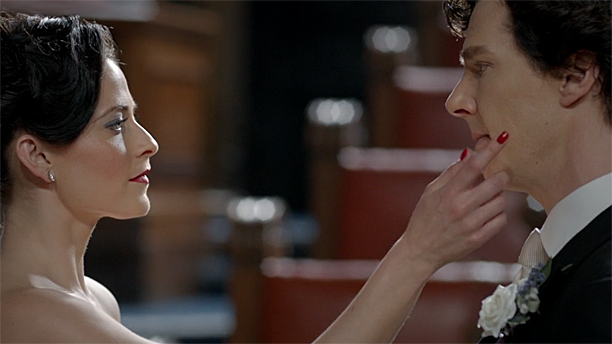 There is a memorable encounter between the UK branch of Elle magazine and Benedict Cumberbatch currently heading for newsstands, and it seems that, once the main interviewing and photographing duties were all dispensed with, the conversation turned to Sherlock Holmes and whether he was, as memorably described by Jim Moriarty, "the virgin."
Elle's contention is that Sherlock, being a sociopath, would not only be a poor choice of sexual partner but also very inexperienced and not a very generous lover. Mr Cumberbatch feels very differently, pointing out that he has a scientific interest at least: "he knows bodies very well."
Here's a couple of brief extracts from the full conversation, which is here:
Elle: I think he would be proficient, of course, but he would lack enthusiasm and he would find it distasteful.
Benedict: Ah, these are terrible stereotypes. And come on, he seduced Janine.

Elle: But they didn't have sex?
Benedict: Oh you're right, very good, you spotted that.
And when asked how he would approach playing a love scene as Sherlock, he explained the, ahem, lengths of research of which he would be prepared to commit:
"I'd do a little experiment to do with durability, length, girth, and um, strength. And um, I would probably take a lot of vitamin supplements to make sure that I could perform, and had had my sleep, and probably not had many cigarettes. Or drink, for that matter. Not that he does drink.

"And then I would be devastating. I'd know exactly how to please a woman, I'd know exactly where to put my fingers, where to put my tongue, where to put my – his I should say – his fingers, his tongue. Think about violinists, think about what they can do with their fingers."
You can go ahead and make your own 'fiddle' innuendo, should you feel the need.
See more:
Benedict: 'Sherlock Has No Time For Your Fawning'
Why Martin Freeman Pretended His Wallet was Stolen at His 'Sherlock' Audition
Biggest Sherlock Holmes Exhibition in Over 60 Years Opens in London
Benedict Promises "Phenomenal" New Series of 'Sherlock'
Read More
Filed Under: